Russia will not use military force in reply to Kiev's attempted terrorism in Crimea – report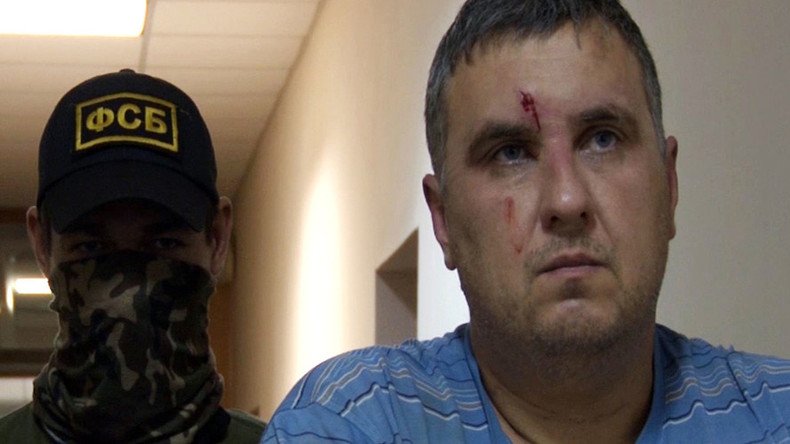 Russian Military commanders have no plans to strike Ukrainian territory in response to the terrorist attacks allegedly plotted by Kiev that were thwarted in Crimea, a Russian business daily reported, quoting a source close to the Defense Ministry.
The Vedomosti daily wrote on Monday that the Defense Ministry is not considering carrying out strikes on Ukrainian territory.
The daily also reported on a session of the Russian Security Council that was urgently called last week to decide on a possible response to Kiev's attempt to launch a series of terrorist attacks in Crimea.
READ MORE: Exclude Ukraine from UN over thwarted terrorist attacks, says Crimean official

Though the Security Council made no specific decisions, it did order ministries and law enforcement agencies to submit reports on possible reciprocal measures in the near future. The body also ordered that steps be taken to reinforce Crimea's security systems and organizations, a source in one of Russia's "power ministries" told Vedomosti.
Russia's Federal Security Service (FSB) reported that it had successfully prevented several terrorist attacks in Crimea in early August, which it says had been planned by the Ukrainian Defense Ministry's intelligence agency.
According to the FSB, its operatives detained several infiltrators who were planning to blow up a highway as motorcades carrying local officials and federal authorities were driving by. Explosive devices and ammunition used by the Ukrainian Army's special forces were discovered at the scene, while further attempts by Ukrainian infiltrators to break through were prevented by Russian forces this week, the FSB said.
Russian President Vladimir Putin commented on the FSB report, saying that Kiev had turned to the "practice of terrorism," adding that this has made any talks with the Ukrainian regime pointless. "I think it's obvious that Kiev's current authorities are not seeking ways to solve problems through negotiations, but have turned to terrorism," Putin said, adding that this new development was alarming. He also promised to discuss the issue with Russia's American and European partners.
On Friday, Prime Minister Dmitry Medvedev said that, while it was possible that Russia could sever diplomatic relations with Ukraine over the attempted acts of terrorism, this step would only be resorted to if all other attempts to remedy the situation had failed, stressing that the final decision would have to be taken by the Russian president.
READ MORE: Russian PM says Moscow could break off diplomatic ties with Ukraine

The Ukrainian Defense Ministry has released a statement in which it refuted any involvement in preparing the attacks and denied that the detained suspects were Ukrainian intelligence officers. At the same time, Ukrainian President Petro Poroshenko has put all military units near Crimea and the Donbass region in eastern Ukraine on the highest level of combat readiness.
Russian Foreign Minister Sergey Lavrov said on Monday that Moscow had additional irrefutable proof that the foiled attacks had been planned and prepared by the Main Intelligence Directorate of Ukraine's Defense Ministry and that Russian authorities were ready to present this evidence to their Western partners if the latter were interested in taking steps to prevent such attacks from happening in the future.
You can share this story on social media: