Russian PM says Moscow could break off diplomatic ties with Ukraine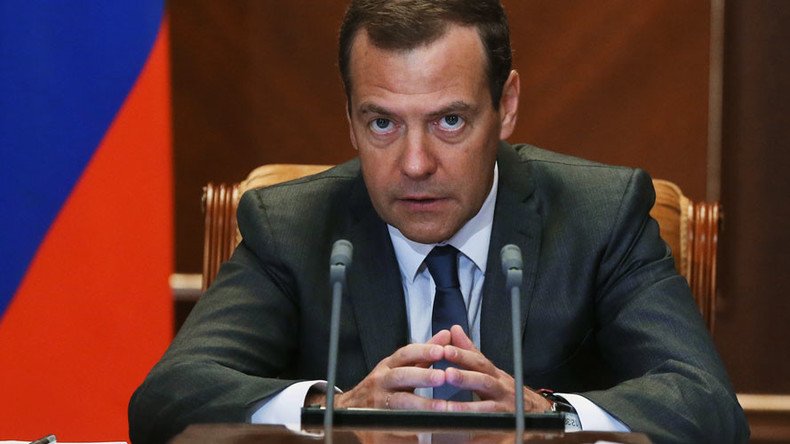 Moscow may break off diplomatic relations with Ukraine if there are no other options left on the table, Russian Prime Minister Dmitry Medvedev said, in commenting on the foiled terrorist attacks in Crimea that Russia blamed on Ukrainian intelligence.
"I wouldn't want such an outcome, but if there is no other way to influence the situation, the president could possibly take this decision," Medvedev said Friday.
A full diplomatic rupture has already occurred in Russia's recent history, Medvedev pointed out, recalling Georgia's invasion of South Ossetia in 2008. The aggressive move led to a Russian military intervention and full diplomatic break with Tbilisi.
"The final decision is up to the president, who's in charge of the national foreign policy agenda," the PM stressed.
On August 10, Russia's Federal Security Service (FSB) said that it had prevented a series of terrorist attacks in Crimea that had been planned by the Ukrainian Defense Ministry's intelligence agency.
The same day, Russian President Vladimir Putin said Ukraine was "playing a dangerous game," calling Kiev's actions "stupid and criminal."
"I think it's obvious that Kiev's current authorities are not looking for ways to solve problems through negotiations, but have turned to terrorism," Putin said.
READ MORE: 'Kiev has turned to terrorism': Putin on foiled sabotage plot in Crimea
Kiev has staunchly denied the accusations laid out by the FSB and instead accused Moscow of staging a provocation.
Medvedev said that the attempted sabotage was a "crime against the Russian state and its people."
The Russian PM lamented that that the foiled attacks had been "sanctioned" by the authorities of such a "close" country as Ukraine.
By plotting an attack on the Russian border, Ukrainian authorities most probably were attempting to divert the attention of its citizens away from domestic problems, Medvedev said.
You can share this story on social media: