Almost half of all Russians plan to vote at forthcoming Duma polls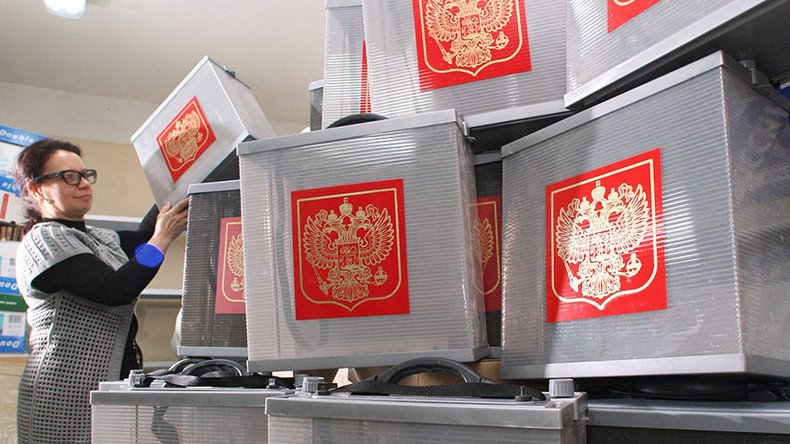 According to the latest research released by the independent pollster Levada Center, 48 percent of Russian citizens intend to cast a vote in the nearing parliamentary elections and 40 percent expect the new State Duma to service the society's interests.
Twenty-one percent of the total number of respondents told researchers that they definitely intend to cast their vote at the September 18 polls. A further 28 percent were equally determined not to attend the election, 20 percent said that they had not yet made up their mind on the issue and 4 percent said they could not answer the question.
READ MORE: Putin orders all 2016 parliamentary polls move to single election day
Of those who said they don't want to take part in the elections, 31 percent said that they did not trust any of the candidates and 30 percent simply said that they considered elections "useless." Some 14 percent of respondents said that they were sure that the current parliamentary majority party would get most of seats without their ballots and 12 percent answered that they had grown tired of politics, which they see as endless struggle in the upper echelons of power.
Of those who chose to participate, 39 percent said that they considered voting at elections the duty of every citizen and 21 percent said they would do it out of habit. Another 14 percent said that that they wanted to express their political position, while 7 percent see their primary objective as preventing some particular party that they do not trust from winning.
At the same time, 40 percent of the responders expect the newly-elected State Duma to represent the interests of the society, but 39 percent said that they hold the opposite opinion. Also, 41 percent of those polled said that the existing political scene offered them no real choice, while 38 percent disagreed with that position.
Russia is holding nationwide parliamentary elections on September 18. The polls will be the first run-out for a new system that has significantly softer rules of political party registration - half of all MPs will be running from independent constituencies. It will also be the first nationwide polls since major political reform significantly increased registered political parties with a concomitant boost to political competition.
Last week, the head of the Central Elections Commission, Ella Pamfilova, said that 24 of Russia's 77 political parties have expressed their intention to participate in the elections.
READ MORE: 24 parties to take part in September parliamentary polls – official
You can share this story on social media: