Chief prosecutor tells of thwarted coup attempt in Russia by Ukrainian radicals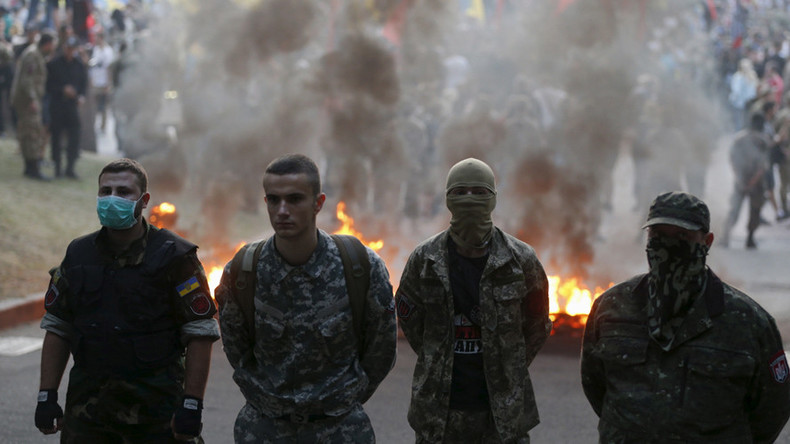 Members of the Ukrainian radical group Right Sector intended to provoke mass unrest and a coup d'etat in Russia, but their plans were foiled thanks to law enforcers' timely actions, Prosecutor General Yury Chaika stated in a parliamentary report.
The document, which has already been submitted to the upper house but will be officially presented on Wednesday, reads that the intentions of Ukrainian radicals weren't implemented because the Russian Prosecutor General's Office managed to find and block the accounts on social networks used for coordination of the extremists' planned actions.
The report also reads that in 2015 Russian law enforcers found extremist information on over 7,000 internet sites and got it deleted. In total, the Prosecutor General's Office conducted over 11,000 probes in 2015, uncovering about 15,000 violations of the Russian anti-extremist law.
READ MORE: Supreme Court puts extremist tag on Ukrainian far right groups

Right Sector is an association of Ukrainian far right groups known for its role in the street violence that resulted in the 2014 coup in Kiev, which ousted the lawfully-elected president and eventually brought to power the current Ukrainian regime. It is believed that Right Sector was behind a massacre in Odessa, where dozens of people were killed in May 2014 during a rally against the policies of the new authorities in Kiev.
In November 2014, the Russian Supreme Court recognized Right Sector and another Ukrainian ultranationalist organization – UNA-UNSO – as extremist and ordered a ban on all activities of these groups in Russia. In addition, Russian law enforcers launched a criminal case against Right Sector leader Dmitry Yarosh, charging him with public calls for extremist activities. Several of Yarosh's allies also face prosecution in Russia over suspected participation in the Chechen wars of the 1990s on the rebels' side.
READ MORE: Putin signs into force more anti-extremism laws

The latest amendments to the Russian anti-extremist laws introduced in mid-2014 provide that public calls for extremism, or attempts to humiliate people, should be punished with up to five years in prison. This applies to internet posts, as well as mass media publications.
Organizing and maintaining political or religious communities that spread extremist ideology is now punishable with up to eight years in prison, correctional work or heavy fines.