'Communists of Russia' urge massive nationalization, return of death penalty in elections program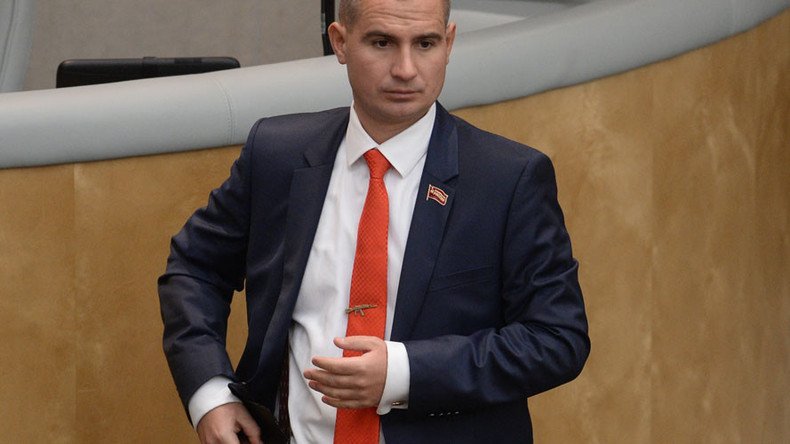 A minor but media savvy political party, Communists of Russia, has released a populist elections program. Its proposals feature a call to bring back the death penalty, nationalization of major companies, and to restore the status quo of the USSR.
The party leader Maksim Suraikin told reporters the title of their plan was "Ten Stalinist Blows to Capitalism". It includes the intention to introduce a constitutional ban on raising the retirement age, limit food prices and at the same time increase average salaries and pensions in the country. Another "Stalinist blow" is opposition to any attempts of imposing religious ideas on society.
READ MORE: Spoiler Communists threaten protests if DiCaprio nabs role of Lenin
Suraikin also said he would personally head the party's elections list and promised that Communists of Russia wouldn't put forward any oligarchs as representatives. He noted the party would send 400 candidates to Russia's 450-strong lower house of parliament, but expected to get about 12 percent of the seats.
He also said that Communists of Russia did not plan to discuss their program and moves with capitalists and the party of power, but promised to hold talks with the Communist Party of the Russian Federation (KPRF) if the leading Russian opposition party shows any interest in cooperation.
Sergey Obukhov, a member of Russia's Communist Party, called the proposal to discuss joint projects with the Communists of Russia "not serious, to say the least." He added that Suraikin's program was a precise copy of the 10 steps to bring the country out of the crisis recently put forward by KPRF leader Gennadiy Zyuganov.
Obukhov went on to call Communists of Russia "a fake party with a fake program."
READ MORE: 'Spoiler communists' launch crowd funded revolution flick starring themselves

Communists of Russia cannot claim any significant public support, but they never fail to grab headlines in the mass media by dint of various bizarre suggestions and quick reactions to the latest fads.
Recent stunts include: the threat to launch mass protests if US actor Leonardo Di Caprio gets to play Vladimir Lenin; a proposal to ban handheld monopods, aka 'selfie sticks' at street celebrations on Victory Day; an initiative to bar US athletes from participating in the 2014 Sochi Olympics, and a plea to the Central Bank to restrict sales of foreign currency to citizens.
You can share this story on social media: