Kremlin warns of planned 'information attack' against Putin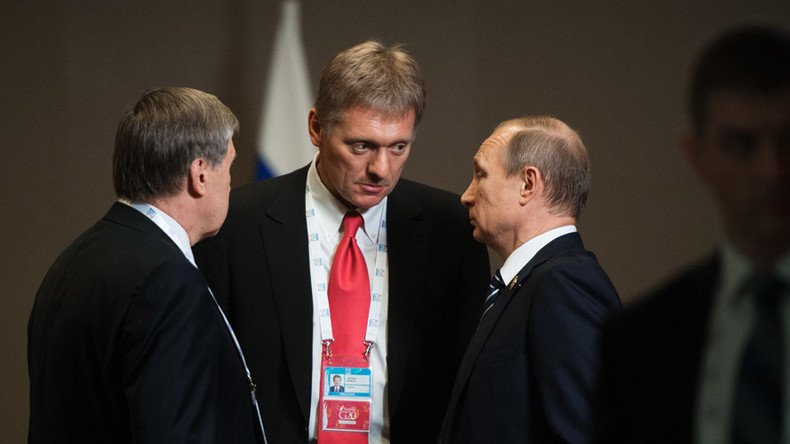 Presidential press secretary Dmitry Peskov has said that Western mass media intends to launch a new slander attack on Vladimir Putin and expressed regret that reporters' professionalism is often "sacrificed to political demands."
According to Peskov, the fresh set of false reports made with intent to harm the president's reputation will be released in the nearest future. He said the presidential administration received letters with requests to comment on more unfounded allegations.

He went on to blame "certain public groups, NGOs, Western special services and certain mass media outlets" for attempts to destabilize the situation in Russia ahead of parliamentary and presidential elections by attempting to discredit senior officials and above all, Putin.
READ MORE: 'His handshakes break hands': Press secretary dismisses Putin illness rumors
"Another piece of spin, which is claimed to be sensational and objective, will happen in the nearest days. We have received some excessively-rich requests that, however, in their form were more like questions at an interrogation," Peskov said.
He explained that the letters contained some personal questions about Putin, as well as questions about Russian president's family, his childhood friends and some businessmen.
"They are repeating themselves. 'Is it true that the amount of your personal accumulated wealth is about US$40 billion?' 'Is it true that you possess gigantic residences, mega-yachts and other assets?'
"They claim that the president maintains close relations with Sergey Raldugin and they speculate that if Raldugin is running some business, this must have immediate relation to the president. 'Is it true that when you were young you spent time together on the Leningrad streets, that you ate, drank and got into street fights together?' I have just quoted an actual question," Peskov told reporters.
READ MORE: 'Pure fiction': Kremlin comments on BBC's probe about 'Putin's money'
"We deeply respect the work of journalists and such form of it as an investigative report. We admire this work when it's professional and objective. But when we talk about these idle conversations, about sending us questions that have been already asked and answered hundreds of times… Here we see no intent to conduct objective investigations, we see just an intention to publish a hatchet job; to direct, put together and release a media attack on to the informational agenda," he said.
Peskov recalled a recent film released by BBC that contained similar accusations without any proof supporting them.
READ MORE: Russian banker steals billions and runs for London
You can share this story on social media: