'His handshakes break hands': Press secretary dismisses Putin illness rumors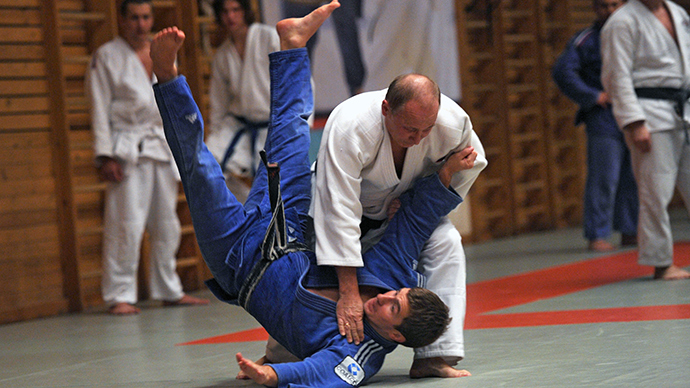 Vladimir Putin's press secretary has dismissed reports that the Russian president is ill as rumors, adding that the news itself could be a result of "spring madness" among some reporters.
"No need to worry, everything is all right. He has working meetings all the time, only not all of these meetings are public," Dmitry Peskov said on Thursday in an interview with Echo of Moscow radio. He added that the president is "absolutely healthy" and that "his handshake is so strong he breaks hands with it."
Shortly before the radio interview Peskov dismissed the rumors of Putin's possible illness in an interview with TASS.
"As soon as the sun appears in spring, when the smell of spring is in the air, some people suffer from crises. … Some have hallucinations about the government dissolution and some cannot see Putin on television for several days," he said. "We have a calm attitude to such crises and keep answering all questions in a patient manner."
News of Putin's alleged health problems was initially circulated by Reuters in a report about the postponement of the president's visit to Kazakhstan.
"It looks like he has fallen ill," an unnamed source in Kazakhstan's government told the agency. However, reporters and bloggers quickly inflated that suggestion into the size of a statement, seeking comment from the Kremlin.
READ MORE: Spokesman denies media speculation over Putin's health problems
The current situation is reminiscent of November 2012, when Russian and international media outlets suggested that Putin's state of health had deteriorated. Journalists pointed out that the president's visits to Moscow from his suburban residence had become less frequent and that he had canceled several international trips because of back pain.
Back then Peskov categorically dismissed allegations that Putin's state of health was affecting his work schedule and reminded reporters that Putin had been a semi-professional sportsman. As with any sportsman, he nurses a lot of old injuries, but they do not limit his professional activities in any way.
In December 2012, Putin personally addressed the issue during a major press conference. He claimed the false reports about his health problems had been circulated by his political opponents who sought to question his ability to run the country.
You can share this story on social media: