Communist lawmaker asks Putin to remove Russian state owned banks from Ukraine
Published time: 1 Mar, 2016 10:19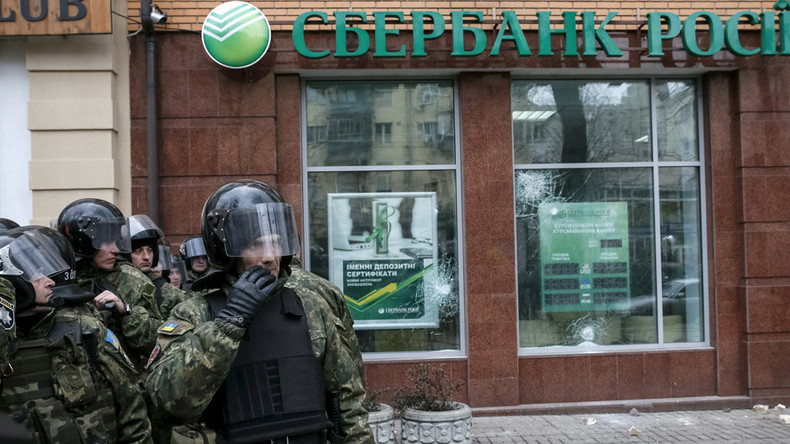 MP Sergey Obukhov wants to have all branches of Russian state-owned banks closed in Ukraine, because of the increasing risks for business and bank personnel, and the hostile attitude of the Kiev authorities.
In a letter to President Vladimir Putin, Obukhov pointed out that branches of Russian state-owned banks in Ukraine were working at a loss. "I am asking you to look into the possibility of changing the policy of supporting the Ukrainian economy against a background of growing aggression on the part of this nation. This includes stopping any activities of Russian state-owned banks on Ukrainian territory, because these activities cause only losses," the MP wrote.
READ MORE: Ukrainian radicals trash offices of Russian banks on anniversary of Maidan protests

"The situation Russian state-owned banks find themselves in in Ukraine is deteriorating rapidly. Their offices suffer from attacks by extremist groups and get destroyed. Ukrainians are failing to repay their credits and the general losses are mounting," he said.
The lawmaker backed his claim with several quotes from recent media reports, according to which in February unidentified criminals hurled stones at a Sberbank office in Kiev, destroying a room and threatening the safety of the staff.
Obukhov also noted in his letter that "economic relations between Russia and Ukraine have completely lost any semblance of partnership after Ukraine refused to repay a sovereign debt of $3 billion."
In late December 2015, the Ukrainian government imposed a moratorium on the $3 billion Russian debt repayment, giving failure to reach an agreement on restructuring the loan as the reason behind the move. Russia has filed a lawsuit against Ukraine and announced that refusal to pay constituted a state of default under IMF rules.
READ MORE: Ukraine officially defaults on $3bn debt to Russia; Moscow to sue Kiev in London court

On February 20, a group of Ukrainian demonstrators marking the second anniversary of the Maidan events that brought the current regime to power, trashed the offices of Russian state-owned savings bank Sberbank and the privately owned Alfa-Bank in Kiev. The mob accused the Russian banks of "financial occupation of Ukraine," as they shattered the windows of the offices with rocks and set their doors on fire.