Most Russians oppose lifting of anti-Turkish sanctions, poll shows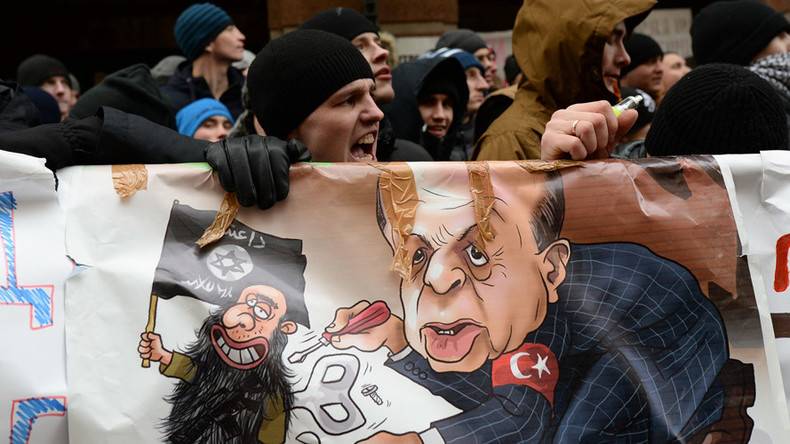 Sixty-three percent of Russian public say they are against the cancelation of economic sanctions imposed against Turkey after its air force downed the Russian jet in November that was delivering airstrikes on terrorists in Syria.
An even larger proportion of respondents – 78 percent - maintain that the Russian authorities should not agree to any compromise before Ankara officially apologizes for the attack on the Russian aircraft, according to the latest poll held by the state-run agency VTSIOM in mid-February.
The share of those who told researchers that they would rather see the sanctions against the neighboring country lifted was 21 percent. Some 11 percent said that Russia should attempt to restore good relations with Turkey even if this country does not apologize for the attack that resulted in the deaths of Russian servicemen.
READ MORE: Russia updates sanctions against Turkey
When researchers asked which of the two countries suffered more from the ongoing conflict, 54 percent of Russians said that they consider Turkey to be the greatest loser. Thirty-five percent hold that both parties suffered equal losses in the conflict and only 3 percent said that they considered Russian losses the greatest.
Moscow introduced restrictive measures against Turkey in late November. The restrictions include a temporary ban on imports of certain Turkish products, curtailing the Russian operations of a number of Turkish organizations and a ban on Russian employers hiring Turkish nationals, effective from January 1, 2016.
Direct charter flights between Russia and Turkey, which constituted about 90 percent air traffic between the countries, were also stopped meaning potential multi-million losses for Turkish tourism sector.
READ MORE: Lawmaker proposes ban on Turkish real estate for Russian citizens
As of January 1 this year, the Russian government updated the list of restrictions with a ban for Turkish construction companies, architecture firms, travel agencies and hotel chains from doing business in Russia. Turkish companies were also deprived of the opportunity to get any state or municipal contracts.
The Su-24 frontline bomber of the Russian Air Force was shot down by a Turkish F-16 fighter on November 24 during a pre-planned raid on the positions of Islamic State (IS, also known as ISIS and ISIL) in Syria. A group of terrorists supported by the Turkish side managed to kill one of the two Russian pilots as he parachuted down after ejecting from the damaged aircraft. The terrorists also downed a helicopter from the search-and-rescue mission, killing one Russian marine.