Putin warns security services of foreign plans to target Russian elections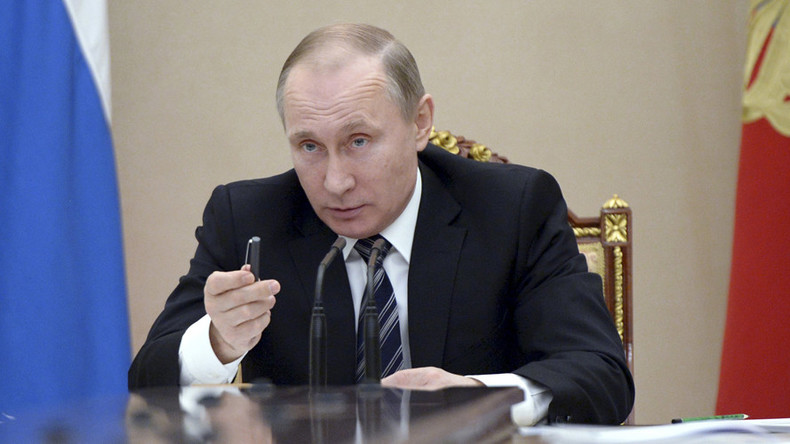 President Vladimir Putin has said that foreign enemies are preparing themselves for the September parliamentary polls in Russia, adding that the security services must be ready to prevent any outside interference in the elections.
"I am reading your [secret service] reports that I regularly receive, both the summarized and detailed ones proving that unfortunately our 'enemies across the border' are preparing for the coming elections. This is why everyone should know that you are persistently working to defend our interests, in accordance with our laws," TASS quoted Putin as saying at the Friday collegium of the Federal Security Service (FSB).
READ MORE: Nationalists propose stricter punishment for violations of elections laws
The president added that any attempts to influence Russian political processes from abroad must be treated as a direct challenge to the country's sovereignty: "Such technologies [to influence politics] exist and have already been repeatedly tested in a number of countries. We will give a proper reply to this threat to our sovereignty," he said.
"You [the FSB] should do everything to cut short the activities of those who attempt or can attempt to use nationalist, xenophobic and extremist slogans to bring discord into our society," Putin told top FSB officers.
The president also noted that statistical data confirmed that foreign special services have become more active in the Russian Federation. "Over the past year we have cut short the activities of 400 professional officers and agents of foreign special services. Twenty-three of them have been brought to justice," Putin said.
Russia is holding nationwide parliamentary elections in September this year. The polls will be the first run of a new system which has significantly softer rules of political party registration, with half of all deputies running from independent constituencies.
The September polls will also be the first nationwide elections held after the introduction of the so-called Foreign Agents Law – legislation that requires all non-governmental groups engaged in political processes and receiving money from abroad to register with the Justice Ministry as 'foreign agents.'
READ MORE: Putin agrees to corrections of 'Foreign Agents Law', blasts NGOs servicing foreign interests

Many rights groups in Russia and abroad have claimed the law threatens the very existence of civil society in the country. The sponsors of the act, as well as top Russian officials including President Putin himself, have repeatedly emphasized that its main purpose is to provide more reliable information for voters, and that it will eventually benefit democracy. In November last year the Foreign Agents Law was expanded with a bill making it illegal for Russian political parties to receive sponsorship from or enter into business deals with NGOs that have 'foreign agent' status.
You can share this story on social media: