Putin agrees to corrections of 'Foreign Agents Law', blasts NGOs servicing foreign interests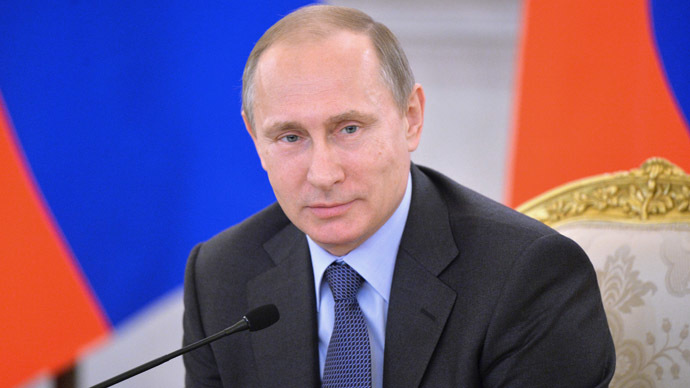 The Russian president has admitted the possibility of amendments to the recently introduced law requiring NGOs sponsored from abroad to label themselves as foreign agents, but added that in general this law is fit for purpose.
"There was a lot of discourse on the so called Foreign Agents Law … I personally agree with those of our colleagues who call for additional corrections on certain points. This is right, sometimes the formulas of this law harm loyal NGOs that seek to help our citizens and organizations," Putin said at a meeting on Tuesday with members of Russia's Public Chamber.
At the same time, recent events have already proved the law on foreign agents was right in principle and much needed, the Russian leader added. He drew attention to the scandal caused by the "Society for Protecting the Consumers' Rights" NGO. On its website, they warned Russian citizens against visiting Crimea without agreeing their trips with Ukrainian authorities, adding that those who fail to follow this procedure could be denied visas to Schengen states. The claim was almost immediately dismissed by Russian officials and many people doubted that it was technically possible for European embassies to monitor the movement of Russian citizens on Russian territory. The NGO's representatives, however, insisted that this was possible in theory and impossible to prove as embassies usually don't explain the reasons behind visa refusals.
The "Society for Protecting the Consumers' Rights" had earlier called itself as a foreign agent, but emphasized it was doing it as a protest. The law only requires this from groups that receive foreign funding and participate in political activities. It was unclear if the society was doing either or both.
"The recent events with the organization that supposedly looked after consumers and started to issue recommendations on how our tourists should behave in Crimea and how citizens should approach real estate issues in Crimea… What was this? Were they looking after Russian citizens? No, they service the interests of foreign states regarding Russia," Putin said. He also noted that it was a very good example of a situation that the Foreign Agents Law was designed to combat.
READ MORE: Putin signs bill on 'undesirable foreign groups' into law
The original Foreign Agents Law was introduced in Russia in late 2012. According to that act, all NGOs who receive funding from abroad, and that are even partially engaged in political activities, must register as foreign agents or risk substantial fines. Many rights groups in Russia and abroad protested the move saying it would jeopardize their existence. However, the law remained and in November last year it was expanded with a bill making it illegal for Russian political parties to receive sponsorship, or enter any business deals with NGOs with 'foreign agent' status.
In May, President Putin signed into law the bill banning the activities of foreign groups that pose a threat to national security or defense capability. It was called the 'Undesirable Foreign Groups Law.' According to it, once the organization is recognized as undesirable, all its assets in Russia must be frozen, its offices closed and distribution of any of its information materials must be banned. Leaders and members of groups that refuse to comply with the ban can face up to six years in prison.
You can share this story on social media: