Communists put own anti-crisis program to Putin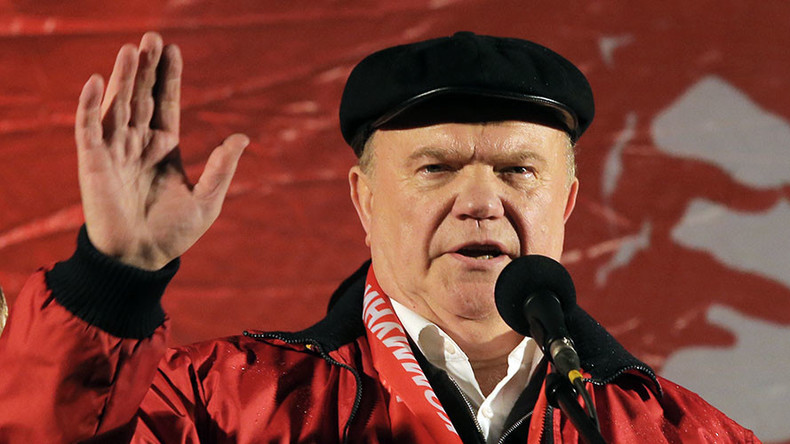 The leader of the Russian Communist Party says his comrades have approved and forwarded to the president an anti-crisis program based on nationalization of mineral resources, a state monopoly on alcohol and tobacco, and restrictions on capital outflow.
"The international economic forum in Oryol has adopted the program to get our country out of crisis. This program was sent to the president, to all government members, to the Security Council and to the heads of Russian regions," Gennady Zyuganov told reporters on Tuesday.
"We insist that [the parliamentary majority party] United Russia discusses all of our proposals in detail with our team of specialists," he added.
Zyuganov also said the program consists of 10 steps, but for increasing budget revenues three measures were absolutely essential. These are the nationalization of all mineral resources, a government monopoly on the alcohol and tobacco trades, and monetary measures that would prevent the outflow of hard currency from the country.
He first presented this program to the public last week during the press meeting dedicated to the approaching State Duma elections. Back then he said the measures, once introduced, would mark the "leftist-centrist" turn in Russia's economic policies as opposed to the pro-business anti-crisis initiatives proposed by United Russia.
READ MORE: Communists plan 'popular patriotic coalition' to counter United Russia at future polls

The longtime Communist leader also drew parallels between the center-left proposals of today and the plan of economic recovery introduced by Evgeny Primakov's government after the economic collapse of 1998. The plan introduced in December of that year included broad social support to boost the demand combined with state measures aimed against price hikes, attracting foreign investment, restructuring of the national banking system and a tougher approach to taxation.
"United Russia must report on the result of their leadership and then present their own program and start a dialogue. The victor should be decided by the voters," Zyuganov said.