'Won't forgive': Communists lash out at Putin for comparing Lenin's policies to 'bomb under Russia'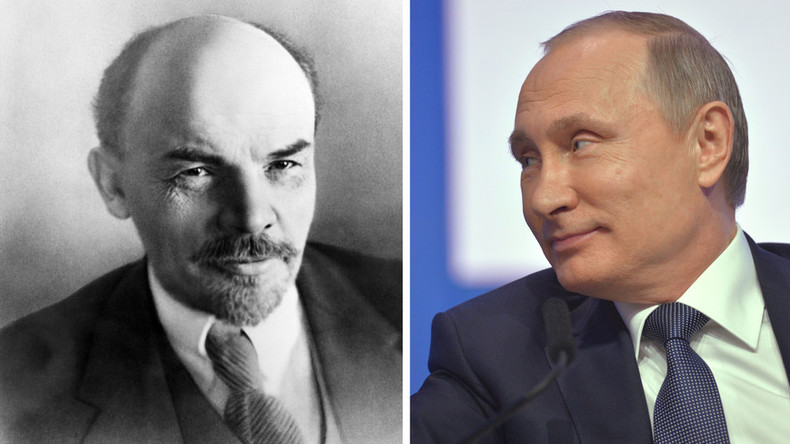 Russia's Communist party has warned President Vladimir Putin that they "won't forgive" him for comments he made concerning Bolshevik leader Vladimir Lenin's concept of the Soviet state, comparing it to an "atomic bomb planted under Russia."
In response to a speech by one of the academics at a meeting of the Presidential Council on Science on Thursday, who cited a line from a poem about Lenin, Putin said the revolutionary leader and his associates had "planted an atomic bomb under the structure called Russia, and it then exploded."

Although it was not the first time Putin has spoken negatively of Lenin's role in Russian history, some took it as his harshest opinion to date, which was incidentally expressed on the very day of the anniversary of Lenin's death.
READ MORE: Freak Russian protesters pour holy water on Lenin's Tomb, chant 'rise up & be gone'
Sergey Obukhov, an MP for the Communist Party of Russia, noted "it's not his first anti-communist sentiment, and history will not forgive him that."
Having caused a stir in the Russian media, the president later clarified his comment while speaking to activists of All-Russia People's Front movement on Monday, saying that he specifically disapproved of the way Lenin had structured the new Soviet state.
Putin said that he had been referring to an iconic debate between Lenin and Joseph Stalin, when the two revolutionary leaders were arguing about the best way to organize the new communist country. While Stalin suggested offering the Soviet Union's member states, such as Russia, Ukraine, Belarus and the south of Russia, autonomy within a federation, Lenin disapproved and put forward a plan giving each republic the right to secede from the USSR.
"With that, the borders were being defined absolutely arbitrary and far from always based on reason. Donbass, for example, was transferred to Ukraine under the following pretext: to increase the percentage of proletariat in Ukraine in order to obtain stronger social support there. This is nonsense," Putin elaborated.

"That was the time bomb under the structure of our state system," Putin said, adding that history should be carefully analyzed so as not to repeat the mistakes of the past. Noting that he really liked and still sympathizes with some communist and socialist ideas, Putin added that the rule book of those who built communism could be compared to the Bible: "There are some very good ideas, [including] equality, brotherhood and happiness."

He pointed out that, in practice, however, the reality turned out quite differently than that which had been planned.

"The execution of the royal family with children, the killing of Doctor Botkin [renowned Russian medic], the executions of priests. When you start thinking about this, you judge [the course] differently," the president said.
You can share this story on social media: