Freak Russian protesters pour holy water on Lenin's Tomb, chant 'rise up & be gone'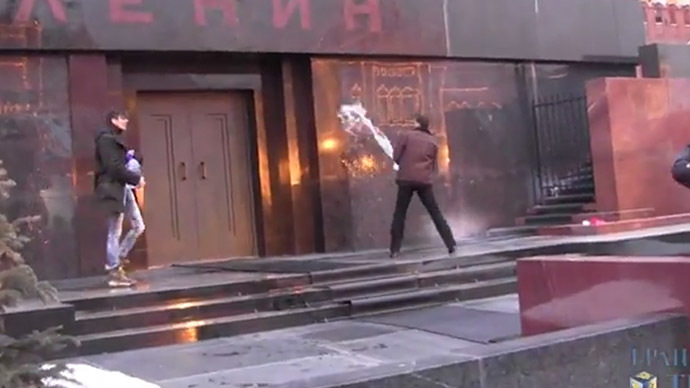 Russian police arrested two protesters who staged a performance dubbed "The Exorcist. Desecration of the mausoleum." on Moscow's Red Square. They poured holy water onto Lenin's Tomb and shouted "rise and be gone."
The stunt lasted for about 15 seconds, after which police intervened and removed the "activists" from the tomb's grounds and led them to a police vehicle.
The protesters were from the local movement called "Siniy Vsadnik," which translates from Russian as "Blue Horse Rider."

The two individuals identified as Oleg Basov and Evgeny Avilov used 5 liter bottles filled up with holy water.

The water was considered holy because the video shows that Basov got the bottle at a Church after the Orthodox Epiphany celebration on Sunday, when the water is blessed and is then believed to have holy powers of healing.
READ MORE: Russian Orthodox Christians take chilling plunge to mark Epiphany (PHOTOS, VIDEO)
The two protesters were taken to a local police station and are likely to remain there until Tuesday morning, according to local media reports. Both of them could face up to 15 days in jail for disorderly conduct.

Basov and Avilov told Grani.ru that their protest action was an attempt to get rid of the Soviet past, which they think is beginning to peer through in the present.

Siniy Vsadnik refers to itself as an art group, which performs various social stunts. It was formed in September 2013 in St. Petersburg.

One of its biggest stunts took place in May 2014, when a man dressed in a military uniform, kneeling on a Ukrainian flag, washed his face with blood in front of people walking down the street in St. Petersburg.
Another staged performance called 'Eating of the Ruble,' was staged in November in front of Russia's central bank. The video shows Basov eating 100 ruble banknotes and washing them down with a soda – in reference to the depreciating Russian ruble.
READ MORE: 'Love to Prophet Mohammed': Crowds protest Charlie Hebdo cartoons in Chechnya
You can share this story on social media: