Russia will return to European assembly only after powers restored in full – MP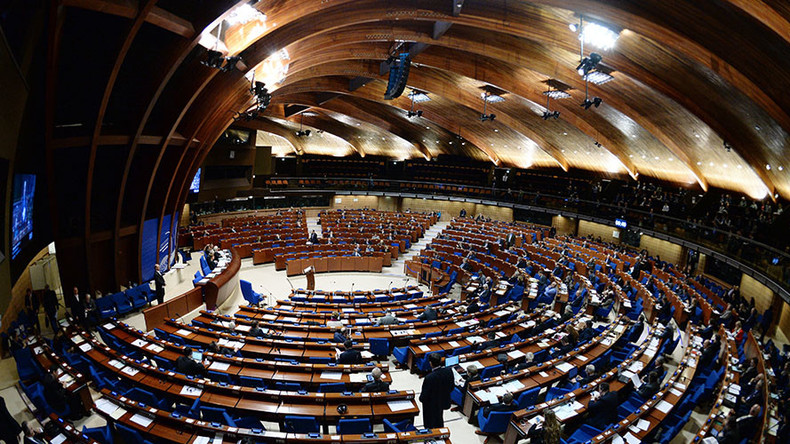 A senior MP has said that Russia's delegation will not take part in the January session of the Parliamentary Assembly of the Council of Europe (PACE), and that restoring relations with the body is only possible on an equal, non-discriminatory basis.
"We are now sending a letter to PACE President Anne Brasseur," RIA Novosti quoted Leonid Slutsky, deputy head of the Russian PACE delegation, as saying Monday. "The letter is signed by speakers of both chambers of the Russian parliament and reads that the request for powers of the Russian delegation in 2016 will be forwarded there later. We are going to miss the January session."
The lawmaker also added that the Russian delegation would resume its presence at PACE sessions only after it gets some guarantees that all of its powers would be restored. "As State Duma Speaker Sergey Naryshkin has stated earlier, we are not going to tolerate any discrimination and we think that any sanctions against the Russian Federation are unacceptable," Slutsky said.
READ MORE: Upper House to analyze expediency of Russia's membership in PACE
In April 2014, PACE approved an anti-Russian resolution over the political crisis in Ukraine, depriving Moscow's delegation of the right to vote, and banning it from participating in PACE's ruling bodies and monitoring missions until the end of that year. In late January 2015, the sanctions were prolonged for another year.
Russian lawmakers have replied with a resolution stating that nations that have repeatedly violated international law and caused thousands of casualties have no moral right to judge Russia or impose sanctions on it. After the scandal, Russian delegation members left PACE, because they considered it impossible to resume discussions while sanctions were still in force.
In addition, Russian lawmakers have prepared a bill on the optimization of Russia's cooperation with international bodies. The main purpose of the draft was to establish which international groups best matched Russian interests so funds allocated for inter-parliamentary cooperation were not wasted on the likes of PACE. According to its sponsors, the bill had already been agreed with State Duma experts, but has not yet received approval from the presidential administration, and the government.
READ MORE: 'Useless and expensive' - Russian MP presses for PACE exit
Some Russian lawmakers have already suggested that the country quits PACE and instead donates the multimillion-euro annual fee paid to this organization to international groups that don't have an anti-Russian bias.
You can share this story on social media: