Khodorkovsky arrested in absentia, put on international wanted list – Russian investigators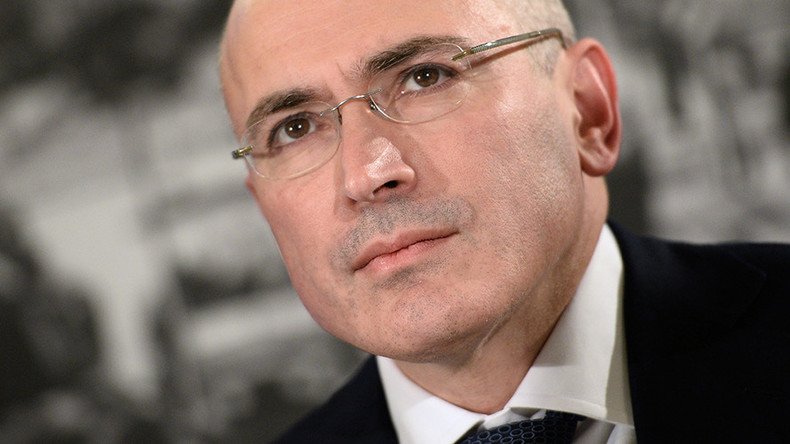 Former head of the Yukos Oil Company Mikhail Khodorkovsky has been arrested in absentia and is wanted internationally, chief spokesman for Russia's Investigative Committee told reporters on Wednesday.
Vladimir Markin also said the former oligarch is suspected of conspiracy to murder two or more people – a crime that can carry a life sentence in Russia. The spokesman added that Khodorkovsky had been officially charged in the criminal case that was opened after the murder of Vladimir Petukhov – the mayor of the Siberian city of Neftyugansk who came into conflict with Yukos stakeholders and managers and was killed on June 26, 1998 - Khodorkovsky's birthday.
Five primary suspects, including Yukos co-owner Leonid Nevzlin and head of Yukos' security department Aleksey Pichugin have already been tried and sentenced, but the probe into their crimes continued until 2015 because investigators wanted to reveal their accomplices and primarily who ordered the hits.
In June, the Investigative Committee spokesperson announced the agency had reopened the Petukhov murder case in order to re-examine Khodorkovsky's part in it. In August, investigators attempted to question Khodorkovsky's father, but he refused to talk to them, quoting the part of the Constitution that allows Russian citizens not to testify against themselves or their close relatives.
READ MORE: Investigators press murder conspiracy charges against Khodorkovsky
Early this month, the Investigative Committee summoned Khodorkovsky for questioning as a suspect in Petukhov's assassination. The ex-tycoon who currently resides in Switzerland called the law enforcers' fresh move "a boring attempt to change the subject." He also assured his readers that he had no intention of meeting with investigators.
On Wednesday, Khodorkovsky's press secretary Kulle Pispanen told RIA Novosti that her boss was not going to make any changes to his lifestyle after the new charges and placement on the wanted list. "He does not care at all. These actions will not limit his movements in any way," she said.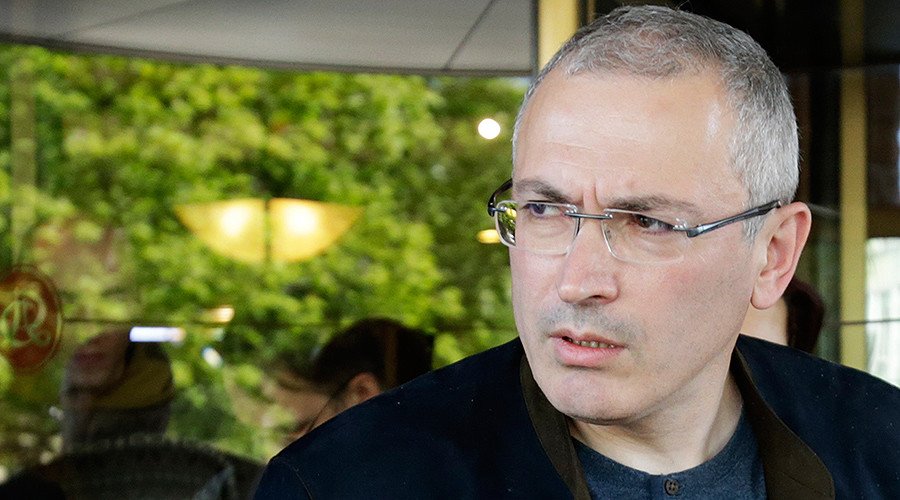 READ MORE: Justice Ministry to add Khodorkovsky's Open Russia NGO to list of undesirable groups - report

On Wednesday Open Russia quoted Khodorkovsky as saying his opponents "have gone insane," adding his arrest in absentia was hardly unexpected given the background of the recent searches of his NGO.
Once Russia's richest person, Mikhail Khodorkovsky was arrested in October 2003. Following a lengthy trial, in 2005 he was convicted of tax evasion and sentenced to nine years in prison. In 2009, Khodorkovsky was charged with embezzlement and money laundering. The second trial ended in late 2010 with a sentence of another 14 years, minus the term that he had already served. After another legal battle, the final ruling cut the sentence to 11 years.
In December 2013, Khodorkovsky was pardoned by Putin and left Russia for Germany to visit his elderly mother.
When Russian journalists asked Vladimir Putin's press secretary if the fresh charges against Khodorkovsky and his arrest in absentia contradicted the 2013 pardon, the official answered that there was no contradiction between these events. "The decision about a pardon is made by the head of state on the basis of a convict's appeal, and the decision on investigation procedures or putting some name on an international wanted list is not made by the head of state, it is made by law enforcement bodies," Dmitry Peskov said.
On Tuesday, the Investigative Committee searched the offices of the public movement Open Russia, founded and sponsored by Khodorkovsky. However, investigators said the operation was a part of the 2003 embezzlement case at Yukos.
READ MORE: Searches conducted in homes of Khodorkovsky's Open Russia movement members

You can share this story on social media: