Nationalists propose anti-ISIS lessons in Russian schools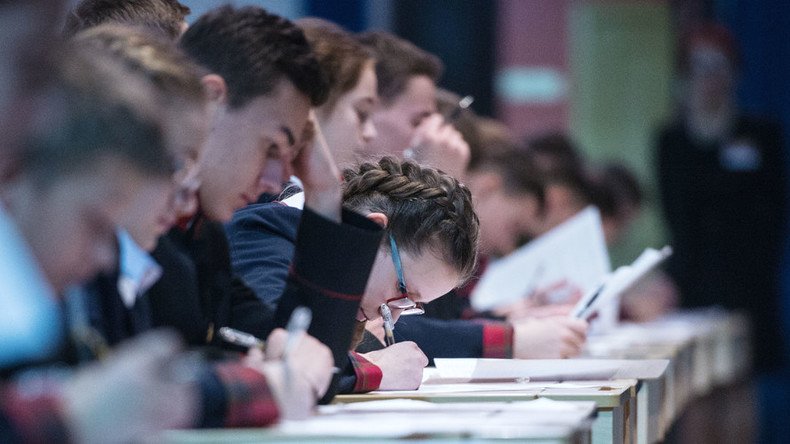 The Motherland party has prepared legal amendments that would order secondary schools to conduct anti-terrorist propaganda among pupils and explain the role of the state in countering extremist groups, such as the infamous Islamic State.
"In the current situation the government must oppose the terrorist propaganda in all spheres of our society, but primarily in secondary and high schools. Teachers must form a negative attitude to terrorism and extremism among their students. They must use real life examples to explain the dangers of the separatist, racist and radical religious concepts," Motherland leader Aleksey Zhuravlyov said in comments with Izvestia daily.
He added that he was aware of the fact that schools were already providing anti-terrorist propaganda lessons as part of a course called 'basics of a safe lifestyle', but said that the scale of the threat demands constant attention to the problem throughout the entire educational process.
Zhuravlev also emphasized that if his bill is passed into law, its implementation would not require any additional funding from the federal budget.
"The issue is overripe and requires an urgent solution or otherwise we will have a growth in the share of ISIS [Islamic State, IS] supporters among the younger generation. We see that this infection is spreading fast. Let us remember that no one has taken extreme nationalism in Ukraine seriously, but we all saw what it turned into in just a few months," he noted.
READ MORE: Russian region to distribute anti-ISIS book among Muslim clerics & civil servants

He also said that according to public opinion polls 27 percent of young people in France had a positive opinion about IS before Paris was hit by the deadly terrorist attacks in November this year.
"I am sure that after the attacks the number of ISIS sympathizers dropped, but this is not the way to combat the main problem of terrorist doctrines spreading. We should make radical steps to prevent the recruitment of the young people," Zhuravlyov told reporters.
In early October a university in central Russia published 3,000 copies of a book detailing the deceits used by IS and describing the dangers that await the possible recruits to the terrorist group. The book is now being distributed among professors in educational establishments and also among imams in mosques in order to teach them how to correctly oppose extremists.
Since last December, Russia has officially designated IS and the affiliated Al-Nusra Front as terrorist groups, banning all citizens from participating in these organizations and making those supporting them liable to criminal prosecution.
You can share this story on social media: