Crimea launches sabotage case against organizers of blackout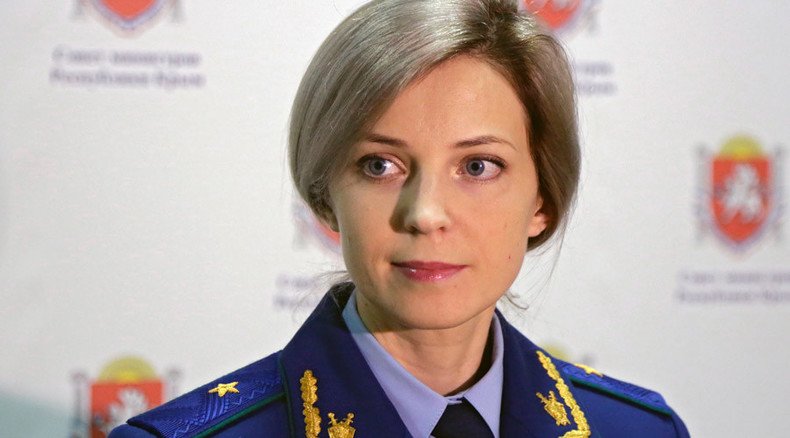 The Russian Federal Security Service (FSB) is investigating the recent bombings of the Ukrainian power grid that have led to blackouts in the Crimean Republic, chief Crimean prosecutor Natalya Poklonskaya has told reporters.
She said that the FSB had started the criminal investigation under the article 'sabotage'. In the Russian Federation, this crime can carry a sentence of up to 20 years in prison.
Earlier, Poklonskaya noted the FSB had started the probe at the prosecutors' request, and that she would still control the investigation in her role as the chief prosecutor of the Crimean Republic.
READ MORE: Blockade of Crimea? Ukraine suspends cargo traffic to and from peninsula
She promised that Russian law enforcers would identify and put on the wanted list all suspects in the attack, as well as those who are currently impeding the repairs on damaged power lines on Ukrainian territory.
The prosecutor noted that many of those hindering the repair work had come to Ukraine from Crimean territory, but their part in the attacks was still to be established.
Crimea is currently suffering from a serious shortage of electricity as a result of bomb blasts which destroyed two pylons on Ukrainian territory on Sunday. The pylons were crucial for delivering power to the republic. The situation was complicated further after anti-Russian activists, engaged in the so called "alimentary blockade of Crimea", prevented repairmen from restoring the mains.
Ukrainian police have also started a criminal case into the bombing under the article of 'inflicting damages to state property', and have also started separate cases against the activists of the blockade who attacked policemen and obstructed the work of journalists.
READ MORE: Kiev not rebuilding power supply to Crimea for 'political reasons' – Novak
Immediately after the blackout, Crimean authorities declared a state of emergency and established a schedule by which power is supplied to various districts. The region's government said that the attack deprived about 1.9 million people of electricity and that the state of emergency would be lifted only after the energy supply to the peninsula has been fully restored.
You can share this story on social media: