Duma calls for foreign parliaments to launch worldwide anti-terror coalition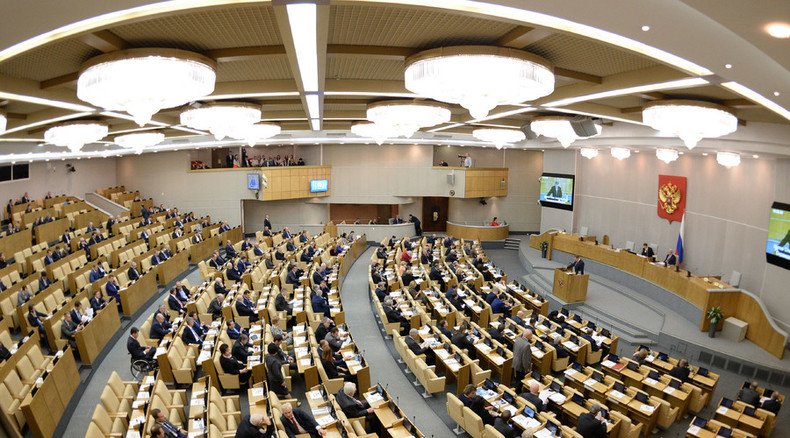 Members of Russia's lower house of parliament have approved a declaration expressing solidarity with all nations that have suffered from terrorist attacks and calling on parliaments worldwide to participate in a major coalition to fight terrorism and put an end to attacks on civilians.
"Deputies of the State Duma urge the lawmakers from Europe, North America, Middle East and Central Asia and other regions of the world to do all in their power to create an international anti-terror coalition. The necessity to protect human lives and the moral duty to terror victims make this an obligation for us all," the resolution, prepared by the State Duma Committee for International Relations, reads.
"Only joint efforts of the whole international community would be able to stop the terrorism that is expanding now right before our eyes," it says.
READ MORE: Kadyrov calls for Muslims worldwide to unite to defeat ISIS
Russian lawmakers expressed solidarity with all nations that had become victims of recent attacks by the Islamic State terrorist group (previously ISIL/ ISIS). "Hundreds of people were killed and wounded in just one month in Iraq, Syria, Egypt, Turkey, and the blood and violence that have overflowed the streets of Beirut and Paris cause our sincere indignation and demand immediate action aimed at reining in terrorism," the State Duma statement said.
The lawmakers noted that the future anti-terror coalition should be modeled on the anti-Nazi coalition that was created during WWII and that became "a real example of many nations' and peoples' unification against the common enemy."
Russian MPs also listed as modern enemies of humanity as a whole Islamic State, Al-Qaeda, the Al Nusra Front, and all other groups connected with these organizations and international terrorism as a whole.
They also emphasized that it was very important to jointly eliminate sources of financial support for terrorists, including the illegal deals involving stolen and smuggled oil and antiques.
In their message, MPs reminded their foreign colleagues that Russia had repeatedly warned the international community about the dangers that came with the destabilizing of the Middle East by the nations that seek global dominance, first of all the United States.
"Apparently, the irresponsible and faulty policies of the Western countries launched under the slogans of 'exporting democracy' have already led to emerging and strengthening of the so-called Islamic State. Attempts to use radical groups as a battering ram for displacement of disagreeable regimes can cause further negative developments," the resolution said.
"Now France and other European nations are actually paying for Washington's shortsighted and selfish policies," it said.
Top Russian officials have repeatedly called for nations globally to unite in the face of the threat of Islamic radicals and terrorists. In one of the latest such statements, Federation Council speaker Valentina Matviyenko said that the reaction to these calls from many states was unwarrantably slow.
READ MORE: 'Global fight against terror is impossible without Russia' - parliamentary leader
"They might voice support for this idea, but they don't hurry to take any practical steps. The tragedy in Paris is one more signal for politicians and state officials that it is time to take joint steps in countering terrorism," Matviyenko said in an interview to the media.
"Both in the USA and Europe, people are coming to understand that without Russia it is impossible to solve any international problems effectively. We are asking our partners to drop the mutual claims as soon as possible and to start listening to each other's positions in order to understand them," she added.
You can share this story on social media: