Kadyrov calls for Muslims worldwide to unite to defeat ISIS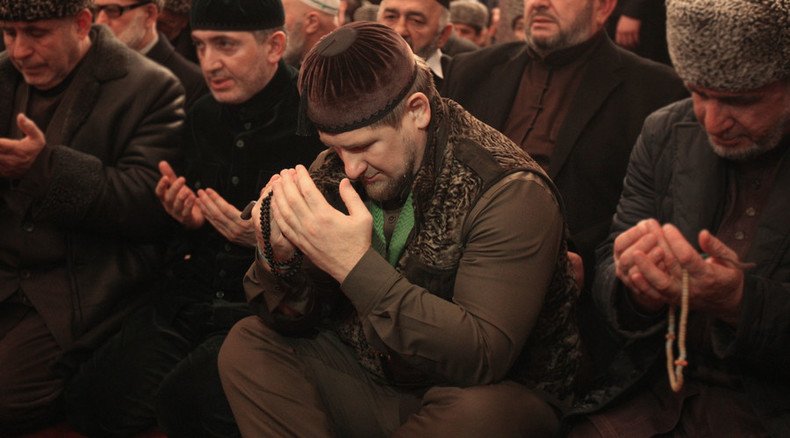 The head of the Chechen Republic has addressed all Muslims in the world with a call to unite and destroy Islamic State (IS, formerly ISIS/ISIL), adding that no one has the right to remain neutral after the atrocities committed by the extremists.
Ramzan Kadyrov made his address on Wednesday, soon after the release of a new video with what was claimed to be an execution of 200 helpless Syrian children by IS fighters armed with machine guns.
"Two hundred children were shot dead. Millions of people in all countries of the world have seen this video and all leading mass media reported this news. Earlier we also saw monstrous killings of women, children and adult men … Muslims die on the hands of those who call themselves Muslims," Kadyrov wrote on his Instagram account, which he usually uses for public statements.
READ MORE: Chechen leader blames US & Western intel for Islamic State terrorists
He also reiterated his point that the current Middle-East crisis was masterminded by the West.
"Special services from the USA and other Western states have cheaply bought the heads of terrorist groups and ordered then to constantly shed Muslim blood, destroy stable countries and blacken the reputation of Islam," he wrote.
Kadyrov then proclaimed that he considered his duty to directly address the leaders of major Muslim nations and ask them how long they intended to tolerate the destruction of the Muslim community in the world.
"Why don't you gather and discuss this problem? Why don't you take measures to reign in IS? Why don't you tell the USA and its allies that you've had enough?" Kadyrov asked.
The Chechen leader also warned that the enemies of Islam had no intention to stop their campaign.
"Tomorrow, under the guise of 'democratic revolutions', they will start the fire of war in your countries. I don't want this to happen. I don't want the death of a single Muslim or non-Muslim," he wrote.
Finally, Kadyrov called upon all 1.5 billion "young, healthy, resolute and courageous" Muslims to join forces and find ways to negate all internal contradictions, and together defeat the common foe – the terrorist group known as Islamic State.
READ MORE: Chechen leader claims Islamic State has no chances in the republic
Earlier this year, he expressed confidence that IS had been created "first of all against Russia" and warned of the threat that the jihadist group and the conflict in Syria pose to Russia's security.
He has also repeatedly accused the US and other Western nations of "spawning" IS in order to incite hatred towards Muslims all over the world, distract public attention from numerous problems in the Middle East, and destroy Islamic nations from inside.
Last year Kadyrov vowed to destroy IS after the group when it threatened to attack Russia. He also said that he had repeatedly asked Russian President Vladimir Putin to send Chechen infantry and himself to Syria to take part in the anti-IS operation.
You can share this story on social media: