Russian lawmakers want Charlie Hebdo authors blacklisted over cartoons mocking Sinai air disaster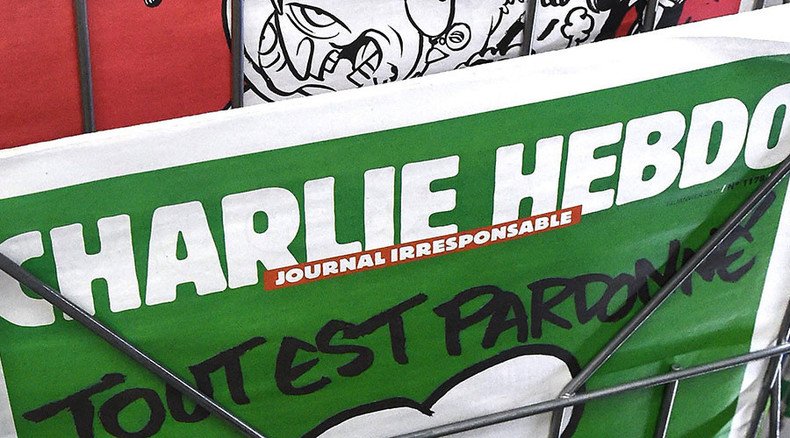 A Communist Party MP has addressed the Russian Foreign Ministry with a request to blacklist all staff of the French magazine Charlie Hebdo, which published cartoons making fun of the A321 airliner crash in Egypt that killed 224 people.
"This was sacrilege and an immoral act on the part of the people who work for the Charlie Hebdo magazine. Such behavior can only be expected from people who have nothing sacred and who attempt to get dividends from bloodshed," Vadim Solovyov said in comments with Izvestia daily.
The lawmaker urged the harshest possible reply to the magazine's actions and said that including all Charlie Hebdo staff into the Russian sanctions list could be one such step.
READ MORE: JeSuisCharlie now? Social media outrage at cartoon mocking death of Syrian toddler Aylan Kurdi
Last week the controversial satirical weekly illustrated their articles with two cartoons about the airliner crash in Egypt. The tragedy occurred on October 31 when an Airbus 321 aircraft belonging to the Russian company Kogalymavia and carrying 224 people came down in the desert soon after take-off from the Egyptian resort town of Sharm-el-Sheikh.
The first cartoon shows parts of the aircraft and a passenger falling toward the ground, while an Islamic State militant, armed with a gun, ducks for cover to avoid the falling debris. Underneath the caricature is the caption: "Daesh: Russia's aviation intensifies its bombardments." The second shows a skull and a burned-out plane on the ground, with the caption: "The dangers of low-cost Russia. I should have taken Air Cocaine" (apparently the authors were referring to two French pilots who fled the Dominican Republic to escape arrest for allegedly trying to transport 680 kilograms of the drug).
The publication immediately caused a wave of outrage from Russian officials, mass media and the general public.
Foreign Ministry spokesperson Maria Zakharova wrote on her Facebook page: "Is anyone still Charlie?" in a reference to the slogan and hashtag "JeSuisCharlie" used by many people to express sympathy with the victims of a terrorist attack on Charlie Hebdo's offices in Paris in January this year.
Vladimir Putin's press secretary Dmitry Peskov called the cartoons "blasphemy."
"In our country, this would be called 'blasphemy.' It has nothing to do with democracy or with self-expression. It is just blasphemy," he said.
"My colleagues and I tried to find caricatures of the Charlie Hebdo journalists in the magazine who were shot by terrorists. We were unable to find them. But if they were published, then it would also be blasphemy, well at least in our country," he added.
However, Charlie Hebdo editor-in-chief Gerard Briard has remained defiant amid the wave of criticism. In an interview with RFI radio the journalist said that the concept of blasphemy did not exist for the magazine, because it is "a secular, democratic and atheistic publication."
"We comment on the news, just like all other publications do... There are no caricature characters in these drawings. We are just commenting on the event and showing our own view," he added.
READ MORE: Russians outraged after Charlie Hebdo cartoons 'ridicule' Sinai plane crash
In Russia, Upper House MP Igor Morozov called the French cartoons "blasphemy" and an "insult," and said that any mass media should abstain from releasing materials that ridicule the memory of victims of terrorist attacks.
In addition, State Duma deputy Ivan Sukharev (Liberal-Democratic party) has requested that Russian law enforcers check Charlie Hebdo's cartoons for extremism.
You can share this story on social media: