No Duma for old men: Nationalists propose maximum age limit for MPs
Published time: 9 Nov, 2015 10:48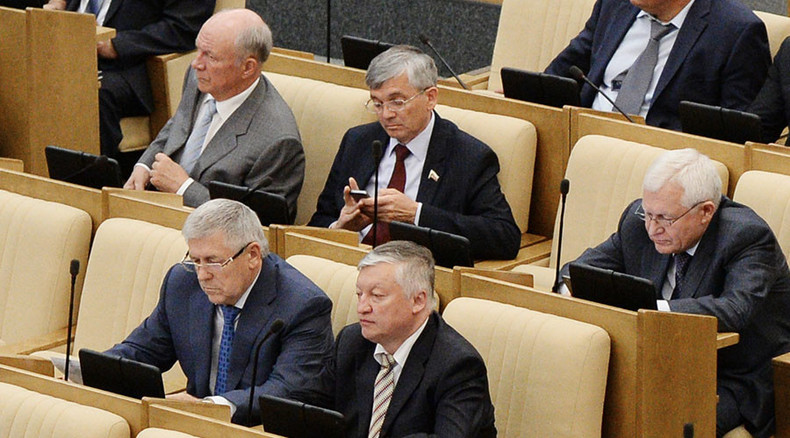 A Russian MP representing populist-nationalist party LDPR has drafted a bill on an upper age limit for State Duma members, claiming the move would make the parliament younger and healthier.
According to the draft prepared by Irina Chirkova, Russian law must be amended with a provision that bans candidates from running in parliamentary polls if they have turned 70 before the actual day of elections.
Chirkova said in press comments that lawmakers' work demanded significant strength and endurance, and was especially difficult for elderly people. She also noted that since Russia has a maximum age limit of 70 years for appointed civil servants, it would be fair if the same applied to elected officials.
READ MORE: Nationalists want compulsory drug tests for Russian schoolchildren
She also said that about 20 current State Duma members will be over 70 by the time of the next parliamentary elections. These include the head of her own Liberal-Democratic party, Vladimir Zhirinovsky, who is currently 69.
The MP also told Izvestia daily that she didn't expect any support from the parliamentary opposition, because if the bill is adopted the leaders of those parties wouldn't be able to run in the next parliamentary polls. Chirkova also expressed confidence that the majority United Russia party, together with the United Popular Front movement (not represented in the State Duma) would throw its weight behind the bill as it would help to save budget funds, an important part of its agenda.
Vasily Shestrakov MP (United Russia) has already supported the idea. He said that as there were other professions with a maximum age limit, introducing one for lawmakers would not be discriminatory.
READ MORE: Lower house scandal: Pro-Putin movement seeks probe into nationalist insults
At the same time, Vyacheslav Lysakov MP (United Russia) told reporters that he doubted Chirkova's initiative would fulfill its main stated objective – saving budget funds. He also added that the renewal of the lower house should be achieved merely by electing active people.
It should be noted, however, that in 2014 Lysakov submitted an opposite proposal that sought to raise the minimum age for MPs from the current 21 years to 25. The house did not support that bill.