Leftist MP wants to brand media companies financed from abroad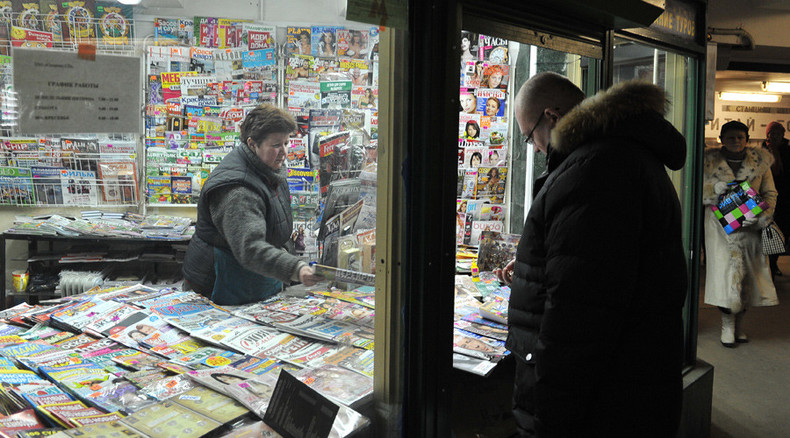 A Russian Lower House lawmaker has proposed to develop a special mark that would help citizens to distinguish mass media that receive foreign grants or other types of financing.
"Our task is simple – when our citizens open some newspaper, they must understand whose opinion they are reading and who is paying for this opinion," Andrei Kazakov, of the center-left political party Fair Russia, said at Thursday's session of the State Duma committee for the mass media.
READ MORE: Duma seeks limits on foreign ownership of Russian media companies
He added that he had already prepared an amendment to the recently drafted bill that makes in obligatory for all Russian mass media to report foreign funding to the state media watchdog Roskomnadzor. "If the bill passes the first reading in the parliament, before the second reading I would draft a rule introducing a special mark for media outlets receiving grants from abroad," Kazakov said.
The draft law was prepared and drafted jointly by all opposition parliamentary parties in early October. It requires Russian media to inform the state media watchdog about any money received from foreign sources within a 30-day period, or face fines and closure. The demands do not apply to money received for advertising.
READ MORE: Opposition MPs call for all Russian media to report foreign funding
Another bill prepared by the Communications Ministry earlier this year forbids Russian groups that are designated as "foreign agents" from being the founder of a mass media company.
The original "Law on Foreign Agents," introduced in 2012, orders all NGOs engaged in politics and receiving any funding from abroad to register as foreign agents or risk substantial fines. Groups with "foreign agent" status are banned from sponsoring Russian political parties, but otherwise their activities are not restricted.
Russian and international NGOs have criticized the law as discriminatory and contested it in Russian courts and in the European Court of Human Rights, but with no result. The bill's sponsors and top Russian officials have repeatedly emphasized that its main purpose was to provide better information for voters, and that it would eventually benefit democracy.