Russia may send border guards to Tajikistan to fend off ISIS - Defense Ministry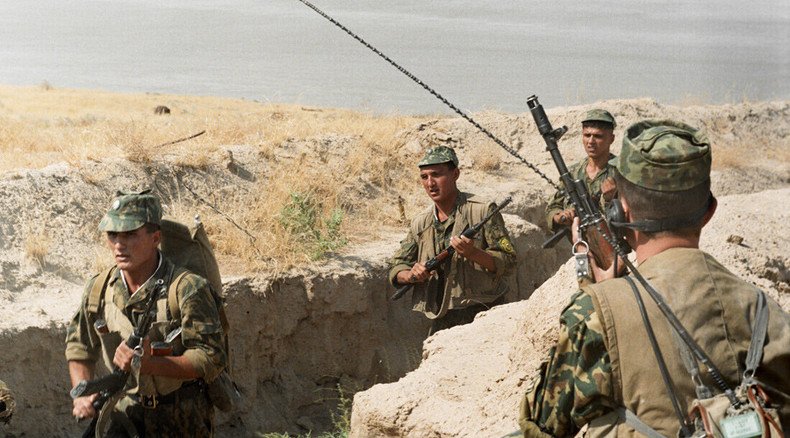 Russia's deputy defense minister has told reporters that it's possible the Russian military would fight terrorism by putting regular units on the border between Afghanistan and Tajikistan.
"Our political leaders will discuss this problem and make a decision. Everything is possible," General Yuri Borisov said at a news conference in Kazakhstan's capital Astana. He was being asked if Russia could give military support to Tajikistan due to the growing terrorist threat in the region. The general did not exclude the Russian military resuming the armed protection of the Tajikistan-Afghanistan border.
Borisov's comment was made after the meeting between the leaders of Russia and Kazakhstan who, according to Kazakh President Nursultan Nazarbayev, "were very concerned with the situation in Tajikistan."
READ MORE: Islamic State threat to Russia is real – FSB
Russia had a special unit of border guards at the Tajikistan-Afghanistan border between 1992 and 2005 and repeatedly repelled attacks by Taliban forces. Russia has a military base in Tajikistan, but its servicemen do not participate in protecting the country's borders. Tajikistan and Russia are members of the CSTO bloc and are bound by collective security obligations. Earlier this year Russia announced it would supply about $1.2 billion worth of weapons and military equipment to help Tajikistan fend off the Islamist threat.
Last week Vladimir Putin had talks with Tajik President Emomali Rakhmon at which he said the Russian authorities were very much concerned by the situation in Tajikistan in particular and in the Central Asian region as a whole.
Also last week Russia's General Staff held an international conference on the situation in Afghanistan at which Colonel-General Igor Sergun warned that Islamic State terrorists (IS, previously known as ISIL and ISIS) can step up its expansion to countries neighboring Syria and Iraq. The general added that according to intelligence sources the terrorists see Afghanistan as a possible main base for Central Asia operations and this poses a real threat to the Russian Federation. Currently there are about 3,000 Islamic State fighters in Afghanistan and growing, Sergun explained. The strength of Afghanistan's main Islamist force – the Taliban is estimated at about 30,000 fighters.
READ MORE: Russia may set up new Afghanistan bases – official
In April this year the deputy director of Russia's Federal Security Service told reporters that the agency considered the threat from ISIS as real, adding that the group is known for its ability to infiltrate other terrorist organizations and spread influence over state borders. Back then, security officials of the anti-terror department of the political-economic Shanghai Cooperation Organization agreed to monitor the movement of ISIS terrorists in their states and jointly thwart their activities.
LISTEN MORE:
In December, the Russian government proscribed Islamic State as a terrorist organization, outlawing membership or any support for it under threat of criminal prosecution. In addition, the Russian Foreign Ministry called upon all countries to recognize ISIS and its fellow jihadist militia, the Al-Nusra Front, as terrorist groups, noting that such a step would be supported by UN Security Council resolutions.
You can share this story on social media: