Over 70 percent of Russians support anti-ISIS airstrikes in Syria - poll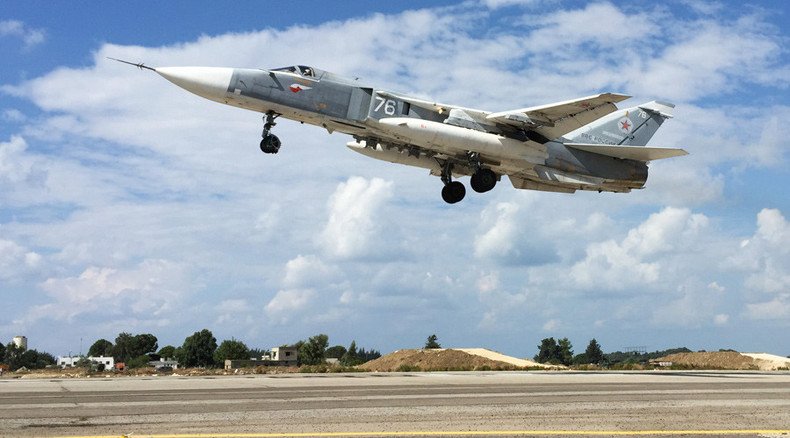 Over 70 percent of Russian citizens support their country's Air Force operations against ISIS terrorists in Syria – and almost a half of them agree that it's right to support Syria's legitimate government and President Bashar Assad.
According to the latest research released by the Levada Center, an independent Russian pollster, 72 percent of Russians are positive about the airstrikes on Islamic State (previously ISIL/ISIS) positions. Fourteen percent were negative toward the operation, and the same share of people said they had no opinion on the subject.
In addition, 47 percent of respondents said that Russia should support Syrian President Bashar Assad in his fight against both Islamic State and the armed opposition. Twenty-eight percent said that it would be better for Russia to stay out of the Syrian conflict, while 8 percent said Russia should join the Western coalition and begin fighting against ISIS and the Syrian government. Eighteen percent said that they either had insufficient information, or did not have a clear opinion.
READ MORE: Russia ready to consider Iraqi request for airstrikes – Upper House speaker
Levada's previous research on Russians' attitude to their country's policies concerning Syria was conducted in the third week of September, and showed that 39 percent of respondents approved of Moscow's support for the Syrian government, with the share of those who disapproved at 11 percent.
LISTEN MORE:
Moscow has supported Bashar Assad's government since the start of the Syrian civil war, both with supplies of military hardware and diplomatic efforts. Russia has also delivered about 30 aircraft loads of humanitarian aid to Syria during the past two years, and has evacuated hundreds of refugees out of the war-torn country, both Russian and foreign citizens.
Last week, Russia started to carry out surgical airstrikes on terrorist positions in Syria after a request for such military aid was made by President Assad. The head of Russia's presidential administration, Sergey Ivanov, emphasized that Moscow would not be involved in any ground operation – aid would only be in the form of airstrikes.
READ MORE: Russian warships strike ISIS positions in Syria
This week, ships of Russia's Caspian Sea flotilla fired cruise missiles at ISIS positions in Syria. According to the Defense Ministry's press reports, since the start of the operation the Russian strikes have destroyed at least 112 objects, including command points, ammunition depots and armored vehicles belonging to the terrorists.
You can share this story on social media: