Russia ready to consider Iraqi request for airstrikes – Upper House speaker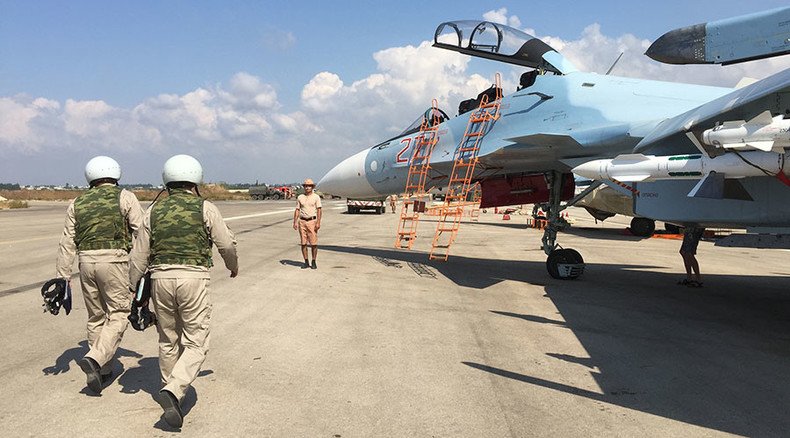 Russia would consider an Air Force operation against ISIS in Iraq if that country's authorities make such a request, Federation Council speaker Valentina Matviyenko told reporters, adding that Russia's only interest was in defeating ISIS.
"In case of an official address from Iraq to the Russian Federation, the leaders of our country would study the political and military expediency of our Air Force's participation in an air operation. Presently we have not received such an address," Matviyenko told reporters on Tuesday during an official visit to Jordan. She also asked the press "to stop reading tea leaves" before actual events take place.
"I want to emphasize that Russia has no other political objectives and no interests other than the defeat of ISIS [formerly ISIS/ISIL] and that differs us from other nations that participate in another coalition," Interfax news agency quoted Matviyenko as saying at a meeting with the head of the Jordanian Senate, President Abdur-Ra'uf Rawabdeh. She also said that Russian authorities understood the necessity of political reforms in Syria, but the final decision on the nature of these reforms and future head of the Syrian state must be made by Syrian people without any external pressure or direct interference of foreign nations.
READ MORE: Federal Security Service calls for broader international anti-ISIS coalition
During the meeting with her Jordanian colleague, Matviyenko stated that Russia was calling upon all states that see the Islamic State as a threat to join the information center in Baghdad used by Russian, Iraqi, Syrian and Iranian security specialists and military. She added that Russia was ready for other forms of cooperation with all nations that share the common goal of fighting international terrorism.
Last week, Russia started to carry out surgical airstrikes on terrorist positions in Syria after a request for such military aid was made by President Bashar Assad. The head of Russia's presidential administration, Sergey Ivanov, emphasized that Moscow would not be involved in any ground operation – aid would only be in the form of airstrikes.
READ MORE: 39% of Russians approve Putin policies on Syria
In comments on the Upper House's license on use of Russian military forces abroad, Valentina Matviyenko said that fighting against the Islamic State was in Russia's national interests because terrorists posed a threat to Europe, Russia and the whole world. She also expressed confidence that the operation would be supported by an absolute majority of the world's nations.
LISTEN MORE:
You can share this story on social media: