'War on terror is sacred': Orthodox Church praises Putin decision on Syria airstrikes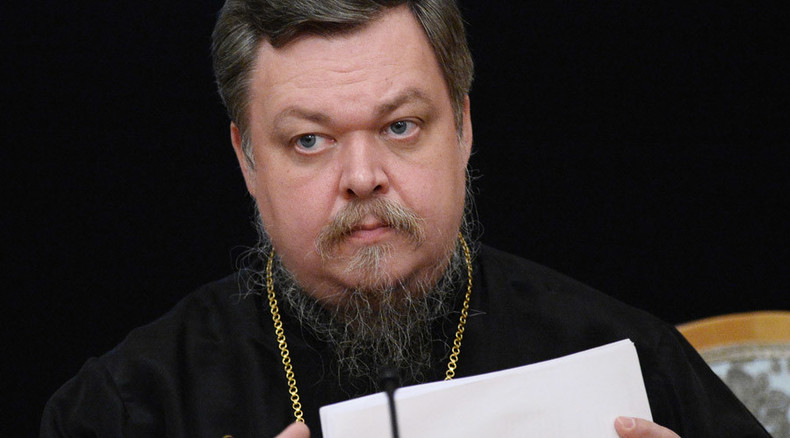 A senior cleric of the Russian Orthodox Church has said his church fully supports Moscow's plan to render military aid to the Syrian government. He added representatives of other major religions would throw their weight behind the anti-terrorist effort.
"We have an inter-religious council in Russia and I can say with confidence – the coming statement of this body that unites Orthodox Christians, Muslims, Jews and Buddhists will support our state's decision. The decision with which our state again assumes a special role in the Middle East and in particular in Syria," Vsevolod Chaplin told reporters on Wednesday.
He also noted the decision not only fully complied with the norms of international law, but also mirrored the views of most Russian people.
READ MORE: Russian parliament unanimously approves use of military in Syria to fight ISIS
"The active position of our country has always been connected with protection of the weak and oppressed, like the Middle East Christians who are now experiencing a real genocide. Russia's role has always been in protecting peace and justice for all Mideast peoples."
He stressed the main objective behind the operation in Syria was not in fulfilling some political or economic ambitions but in protecting the weak. "Terrorism is immoral and we need to protect those who are being driven from their lands by war," Chaplin noted.
He also emphasized that terrorism was the most significant threat humanity is currently facing. "Whatever they are trying to justify terrorism with, it cannot be justified. Thus, any fight against terrorism is moral, we can even call it a holy fight," Chaplin told reporters.
READ MORE: 'West's main target in Syria is Assad, not ISIS' - Kadyrov
Earlier on Wednesday, Russia's upper house unanimously voted to fulfill President Putin's request to use the nation's military in Syria to fight terrorism. As the head of the presidential administration, Sergey Ivanov announced the news to the mass media, emphasizing Russia would not be involved in any ground operation - aid would only be in the form of airstrikes.
Ivanov also noted the president's request for the use of military forces abroad had been prompted by the fact that a relatively large number of Russian citizens had joined the terrorist groups in Syria, and these people could potentially pose a threat to Russia's national security.
President Putin called the operation in Syria "preemptive strikes against terrorists." He explained that radicals from many countries of the world, including Russia, have flocked to Iraq and Syria to join the Islamic State terrorists. The president said they must all be defeated there and not allowed to return to their home countries.
READ MORE: Preemptive strike is how you fight terrorism – Putin on Syrian engagement
Putin also added that Moscow was interested in other nations joining its counterterrorism effort in Syria, in particular by working with the intelligence sharing center in Baghdad, which Russia, Syria, Iraq and Iran established in the run-up to the operation.
You can share this story on social media: