Upper house speaker blasts ISIS as 'new format of fascism'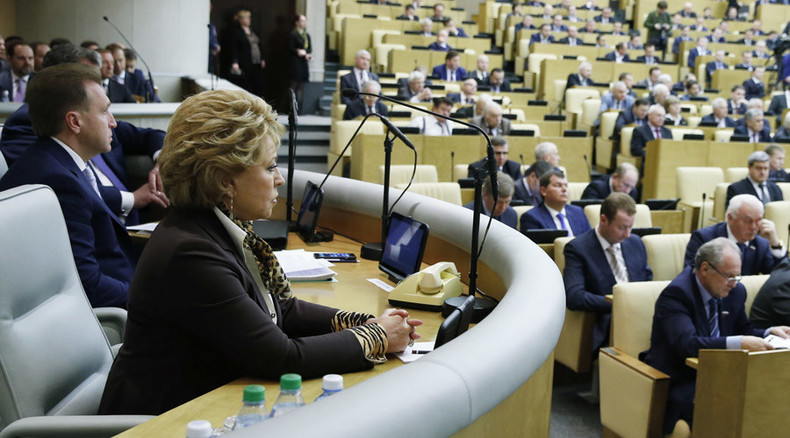 Russian Federation Council Chair Valentina Matviyenko branded the Islamic State regime a "new format of fascism" in a public speech and blamed forced interference into other state affairs for the ongoing rise of Islamic terrorism in the Middle East.
"What we see, I would call it a new format of fascism that has appeared in the world and through which they attempt to form this state," Matviyenko said during a press conference dedicated to the Eurasian Women's Forum, currently taking place in Russia's St. Petersburg.
"When they execute people it is a terrible sight. In the 21st century it looks not only barbaric, it looks really scary," Matviyenko added.
She also noted that the current dire situation in the Middle East was a direct result of the "aggressive policies of force interference into affairs of independent nations" as well as of foreign support to radical opposition in Middle East countries.
READ MORE: Islamic State threat to Russia is real – FSB
"As a result we received a terrible threat not only in the Middle East Region, we received a terrible threat to the world as a whole, represented by ISIL," she said, referring to Islamic State (IS, also known as ISIS).

The upper house chair also emphasized that putting an end to the policy of escalation of Mideast conflicts would help to end the migration crisis that is now hitting Europe.
Matviyenko's statement echoes those made by Russia's ambassador to the United Nations, Vitaly Churkin, in his interview with Rossiya Segodnya agency earlier this month. Churkin dismissed attempts to blame the rise of IS on the policies of Syrian President Bashar Assad and added that the terrorist group's history goes back to the US-led intervention in Iraq.
"ISIS appeared and became active in Iraq when the militants began storming Baghdad … So, Islamic State ripened in Iraq during the US occupation … the American occupation should be blamed for the rise of ISIS," Churkin said.
READ MORE: 'American occupation should be blamed for the rise of ISIS' – Russian envoy to UN
Senior Russian officials, including President Vladimir Putin, have repeatedly proposed to launch a broader international coalition to fight IS, as well as universal abandoning of double standards on terrorism.
Last year Russia officially recognized IS as a terrorist organization, outlawing membership or any support for it under threat of criminal prosecution. In addition, the Russian Foreign Ministry called upon all nations to recognize IS and its fellow jihadist militia Al-Nusra Front as terrorist groups, noting that such a step would be supported by UN Security Council resolutions.