Russia drafts bill to add 7 more countries to food embargo list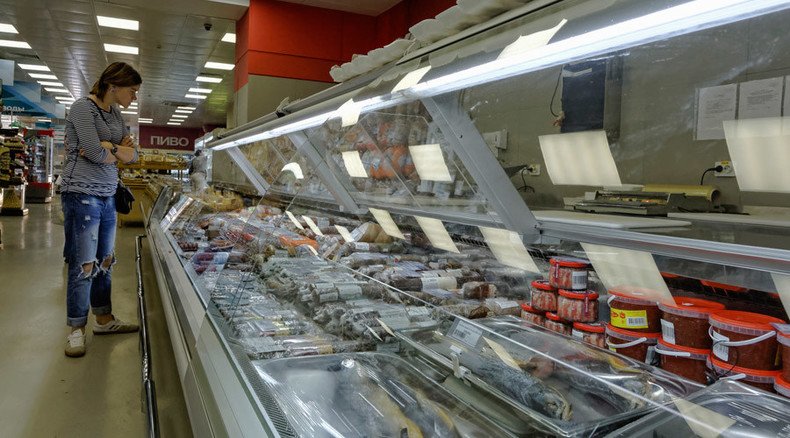 Moscow is drafting a proposal to extend its food embargo to seven more countries which have backed EU sanctions against Russia.
The Russian Agriculture Ministry is working on a draft of a bill which will ban certain food imports from Albania, Montenegro, Norway, Iceland, Liechtenstein, Ukraine and Georgia – which have not yet fallen under Russian sanctions yet, RIA Novosti reports citing the ministry's press service.
"At the moment, the proposals concerning the seven countries are being worked out by the government, the draft decree is also in progress," the ministry said on Tuesday, adding that the exact date of the readiness of the document has not yet been set.
"The exact list of the countries is being discussed," the ministry's spokesperson added.
READ MORE: PM Medvedev to personally head future govt commission on import replacement
Earlier on Tuesday, Russian Prime Minister Dmitry Medvedev said that the government may address President Vladimir Putin and ask him to extend the list of the countries falling under the food import ban.
President Putin is highly likely to support the prime minister's proposal to expand the ban list, said the Kremlin spokesman Dmitry Peskov adding that "the principle of mutuality is of fundamental importance in this issue."
READ MORE: Leftist MP asks govt to send banned food to Donbass as aid
European economies continue suffering from Russian counter-sanctions which have recently been prolonged up until August 5, 2016. The move was made in response to the EU extending its sanctions against Russia up until December 31, 2016.
Italy has already suffered losses amounting to €1.2 billion ($1.3 billion) because of the Russian food embargo said the National President of the Italian agricultural producers confederation, Dino Scanavino.
"It is a case of €1.2 billion. This is the cost of the decrease in the Italian exports to Russia. This is precisely the agricultural part of the export, so its shrinkage affects agriculture and related sectors," Dino Scanavino said at a press-conference at Rossiya Segondya news agency.
"We should overcome this crisis situation as soon as possible," he added.
Russia imposed the food import ban on products from the EU after it introduced sanctions against the country, in August 2014. The list of prohibited goods includes meat, fish, sausages, vegetables, fruit and dairy products.
You can share this story on social media: