United Russia activists create 'flag for straights' to oppose 'gay fever'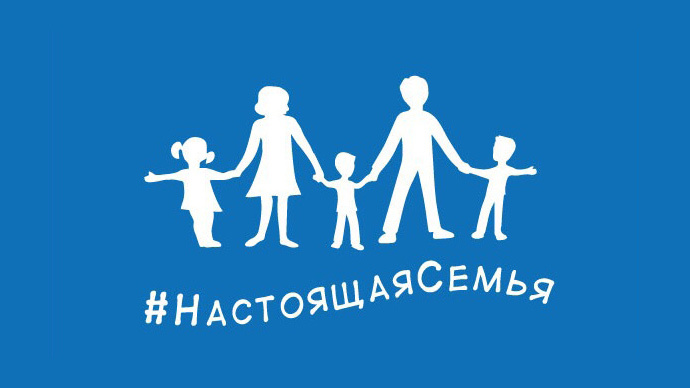 The Moscow city branch of the parliamentary majority United Russia party has created a 'flag for straights'. They want to use it in their campaign in defense of traditional values against aggressive LGBT propaganda.
The flag exists in three variants where a stylized picture of a husband, wife, and three children are pictured holding hands against a background of white, blue and red – the colors of the Russian national flag. Under the picture is the hashtag #realfamily in Russian.
Deputy head of United Russia's Moscow organization said in comments with the popular daily Izvestia that the flag will be officially presented at the Day of Family Love and Faithfulness celebrated in Russia on Wednesday. Aleksey Lisovenko emphasized the new symbol was designed to counter the LGBT community's rainbow flag.
READ MORE: Tweeting Rainbow: Social media explodes in gay pride after SCOTUS ruling
"This is our answer to same sex marriages, this mockery of the very concept of family. We must prevent gay fever in our country and support traditional values," Izvestia quoted the activist as saying.
Last month, Aleksey Lisovenko sent a letter to the State Duma asking the parliament to ban the use of the LGBT community's rainbow flag in Russia, including on websites and social networks.
Soon after the story about the Russian "flag for straights" appeared on the internet, many reporters and users of social networks pointed out that it was almost identical to the flag used by the "Manif Pour Tous" movement that opposes the legalization of same sex marriages in France.The resemblance is apparent with the only difference that the French flag has two kids on it and the Russian has three.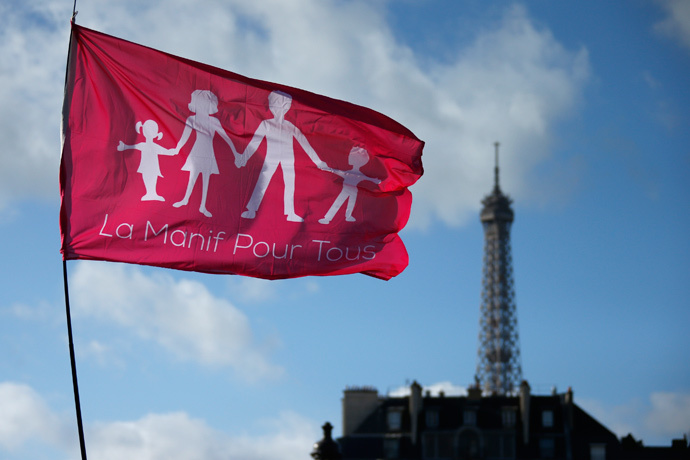 However, in subsequent press comments Lisovenko dismissed accusations of plagiarism saying the symbol was created in cooperation with the French activists who agreed to grant their Russian allies rights for its use. Lisovenko also added that the greater number of children on the Russian flag was meant to demonstrate the difference in Russian traditions.
You can share this story on social media: