Top MPs urge counter-sanctions against 'most anti-Russian country' Canada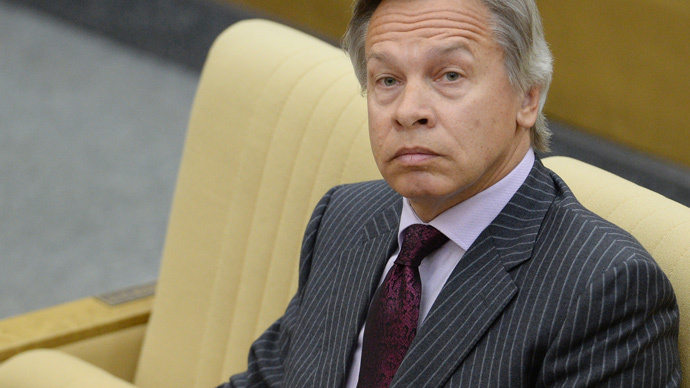 The head of the State Duma's Foreign Relations Committee has proposed reciprocating Canada's latest anti-Russian move by introducing sanctions similar to embargo of agricultural products from EU introduced about a year ago.
"We should not pretend that nothing is happening and we should develop a complex of reciprocal measures aimed at Canada," MP Aleksey Pushkov (United Russia) stated at Tuesday's parliamentary session. He added that today Canada was "the most anti-Russian state in the Western alliance as a whole and definitely also in the G7 group of nations."
"We must undertake reciprocal measures and the embargo on agricultural products from EU countries is completely justified," Pushkov said.
He went on to blast Canadian government and Prime Minister Stephen Harper for deliberately aggravating the relations with Russia in order to artificially boost its image on the international arena.
"The government of this country attempts to attach some importance to the very tiny role in the international politics. They compensate the obvious lack of weight and authority with increased activity in the sphere of sanction policies," Pushkov said. He reminded that previously Harper had ruled out the possibility of Russia's membership in G7 and by this promoted the thesis that the confrontation between Russia and the West was necessary.
"In my view, we must respond to this," Pushkov told fellow lawmakers.
The comments came soon after Ottawa announced that it was introducing additional sanctions against Russian companies, persons and groups that include the Eurasian Youth Union and its leaders, the pro-Putin motorcycle club Night Wolves, the energy giant Gazprom, the defense corporation Rostec and others.
Russian Deputy PM Dmitry Rogozin, who oversees the country's weapons and space industries, also blasted Canada's move via Twitter. "Harper was yearning for Ukrainian-Canadian votes so much he sacrificed the future of their own aircraft industry that had dreamt of a deal with Russia," Rogozin stated.
Харпер в погоне за голосами укроканадцев угробил перспективы собственного авиапрома, мечтавшего о сделке с Россией http://t.co/vnWKd3pWmn

— Dmitry Rogozin (@Rogozin) June 30, 2015
Earlier, the deputy head of the State Duma Economic Policy Committee, MP Mikhail Yemelyanov (Fair Russia), said that Russia must exit all joint project with the Canadian corporation Bombardier. In an interview with RIA Novosti, he said that these joint projects had always been controversial and looked more like tax evasion schemes that feasible production. He added that as Russia makes its own medium-range passenger aircraft it would not lose anything from abandoning this cooperation.
READ MORE: Medvedev signs food embargo extension until August 2016
Last Thursday Russian Prime Minister Dmitry Medvedev signed a decree extending the current Russian embargo on food imports from Western nations that use sanctions against Russia until August 5, 2016. The list remained almost the same as the original with minor changes on certain positions. It includes meat of cattle, pigs, edible offal, fish and shellfish, milk and dairy products, vegetables, sausages and so on.
Commenting on the decree, Medvedev said that the countermeasures to Western sanctions were dictated not by political, but economic motives.
You can share this story on social media: