Armenian protests resemble Ukrainian Maidan coup scenario - Russian MP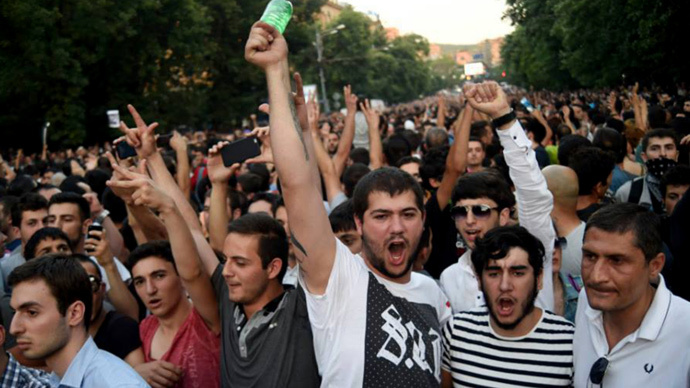 Upper House MP Igor Morozov has said that the current mass rallies in Armenia resemble the first phase of the latest coup in Ukraine, adding that the crisis could be being managed by the United States from their major diplomatic mission in Yerevan.
"Armenia is now close to a coup d'etat with use of firearms. This is going to happen unless President Serge Sargsyan learns some lessons from the Ukrainian Maidan and makes some conclusions," the senator told RIA Novosti in comments over latest developments in Armenia's capital, Yerevan.
Earlier this week thousands of people took into streets in this city protesting increased electricity prices. The rallies ended in violent clashes with police that left dozens of people from both sides injured and hundreds of activists arrested. On Wednesday the protesters rejected an offer to meet with the Armenian president and announced that they would continue their mass sit-in in one of Yerevan's central squares. The standoff has already received the nickname 'Electric Yerevan' from reporters and users of social media.
Morozov noted that the Armenian crisis was very closely repeating the first phase of the latest 'Maidan' coup in Ukraine.
"Back then the Ukrainian opposition also refused to meet with President Viktor Yanukovich and started to appeal to the European community. It was also the time that visiting politicians from Europe started to deliver addresses before the rallies," he said.
The senator pointed at another similarity between the two crises – the very active involvement of US embassies. He said that the influence of American diplomats on the events in Kiev was obvious and there were reports about their current involvement in Electric Yerevan.
"It should be noted that the US embassy in Armenia was among the largest American missions in foreign countries, outscaled only by the diplomatic mission in Iraq, even though Armenia is a very small country," Morozov said.
READ MORE: Russian military to order major research to counter 'color revolutions'
The head of the Federation Council's Foreign Relations Committee Konstantin Kosachev concluded that the current standoff in Yerevan bore all hallmarks of a so-called 'color revolution' – the overthrow of a democratically-elected regime by means of mass street protests.
"So far the situation appears to be developing as a conflict among people who are unhappy with their socio-economic well-being. But we should not deceive ourselves, all color revolutions developed in similar scenarios. Armenia is not guaranteed from such outcome," Kosachev said in comments with RIA Novosti.
The senior Russian senator also drew the reporters attention to the fact that about a hundred of various non-government groups were working with Armenian public opinion trying to incline it towards the pro-Western way of development. He noted that the very suggestion of a choice between East and West was an imposed move that could only lead to conflict.
"This is an absolutely artificial choice, a dishonest and unappealing political gamble," he noted.
Russia currently lists color revolution as a major threat to the national stability and international peace. In March this year the chairman of the Security Council and a former head of the Federal Security Service, Nikolai Patrushev, said that this body would develop a detailed plan aimed at preventing color revolutions or any other attempts of forceful change of lawfully elected authorities through mass street protest.
You can share this story on social media: