Russia has no plans for new arms race – Putin's aide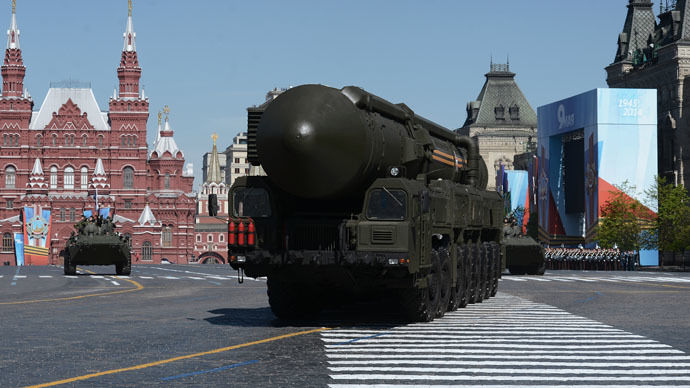 A Russian presidential aide has told reporters that Russia has no plans to launch a new arms race, but will nevertheless react to all new threats.
"Russia is trying to react to new threats, nothing more than this. We are not entering an arms race, we are against any arms race as it would weaken our opportunities in the economic sphere," Yuri Ushakov was quoted as saying by RIA Novosti.
"We are in general against this," he said. "I think that our president has made very precise statements on this matter."
Ushakov's comments came soon after President Vladimir Putin told Russia's top brass that military forces will get 40 new nuclear-capable intercontinental ballistic missiles in 2015. The president noted in his speech that the new missiles "will be capable of penetrating the most modern defenses" and promised that the Russian government would persist in paying specific attention to realization of a massive military rearmament program.
READ MORE: Putin: 40+ ICBMs targeted for 2015 nuclear force boost
Putin's words caused a wave of heated reactions in the West. NATO Secretary-General Jens Stoltenberg called the statement "unjustified, destabilizing and dangerous," adding that this would cause the alliance to increase the readiness and the preparedness of its forces. US Secretary of State John Kerry said that Russia's plans to purchase more missiles were causing concern and could be a sign of reversal in the disarmament sphere.
However an unnamed military source has told the Interfax news agency that even after all 40 missiles Putin spoke about are delivered to troops, Russia would still remain within the limits imposed by the active international arms treaties. The source added that the country would stick to the agreed schedule of rearmament because it was based on industry capabilities and gradual wearing out of various weapons' components.
President Vladimir Putin and other top Russian officials have repeatedly spoken against the possible dragging of the country into a new arms race, but emphasized that the country would find a reply to every new move by its opponents.
READ MORE: Russia ready for arms race, prefers to avoid it – Putin
When Putin spoke to the staff of an Air Force base in South Russia in 2014, he said that it was of primary importance to look into the future and respond in a timely manner to all changes in the global military situation.
Before that, Putin urged the international community to agree on legally-binding guarantees that new weapons, such as the global missile defense constructed by the US and NATO, would not be directed against Russia. "Statements like 'Don't be afraid' and 'We promise that nothing will happen' are clearly insufficient in the modern world," Putin told reporters. "This is childish. We need guarantees and serious agreements in the security sphere."
You can share this story on social media: