Airport owners face criminal charges over 2011 Domodedovo bombing
Published time: 8 Jun, 2015 09:59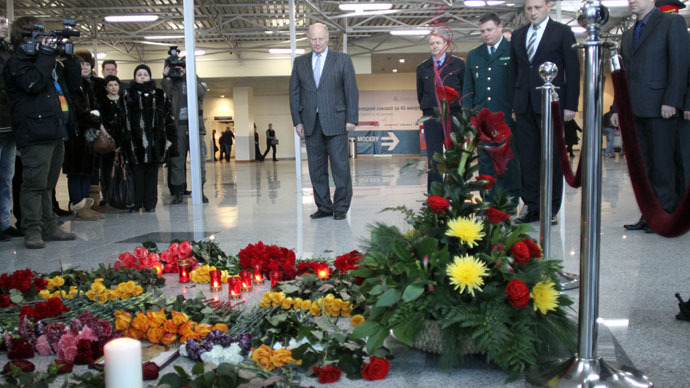 Russia's top law enforcement agency has started a criminal case against top managers and owners of Moscow's Domodedovo Airport over suspicions that lax security measures made possible a deadly terrorist attack in 2011.
Russian news agencies reported the news on Monday, referring to a press release circulated by defense lawyers for one of the suspects. It reads that the Investigative Committee started a criminal case on charges of delivering services without proper safety measures, resulting in the death of two or more people. By law, the crime can be punished by prison terms of between three and 15 years. The January 24, 2011 bombing at Domodedovo killed 37 people.
The suspects listed in the statement are three directors of airport managing companies: Svetlana Trishina, Andrey Danilov and Vyacheslav Nekrasov and also "other non-established owners of the Domodedovo international airport."
Investigators claim that the terrorist attack on the airport became possible only because of Domodedovo security service's failure to perform its duties in full, one of the defense lawyers, Igor Trunov, told reporters Monday.
In 2011, the investigators who dealt with the attack said it was impossible to establish the real owners of the airport. The board chairman of the managing company, Dmitry Kamenshik, refused to disclose this information, saying that this was the will of the owners who an attempted a "raider attack" – an hostile takeover with the use of forgery and other criminal methods. As a result, eight airport managers and police officials suspected of criminal negligence became witnesses in the case.
In 2013, the RBC news agency quoted Domodedovo's press service as saying that Dmitry Kamenshik was the owner of the companies that run the international airport. The press service also said that these companies were registered in Russia, contradicting previous reports that the managing companies were registered as offshore entities in Cyprus and the Isle of Man.
The Domodedovo bomb was detonated by 21-year-old suicide bomber in the arrival area of the airport, killing 37 people and wounding 180 more. Investigators suspect that the attack was organized by the Islamist terrorist group "Imarat Kavkaz."
READ MORE: Eight cleared of safety neglect after Domodedovo attack
In November 2013, a Moscow Region court found three people guilty of assisting the Domodedovo bomber. Two of them were sentenced to life in prison and the third got a 10-year sentence.