Duma passes bill allowing expulsion of undesirable foreign organizations
Published time: 20 May, 2015 10:01
Edited time: 20 May, 2015 12:36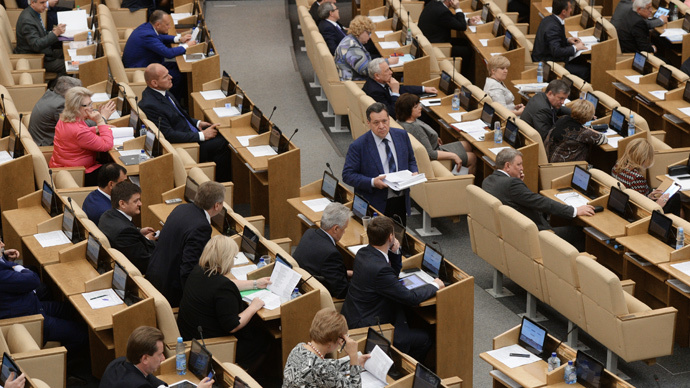 Russia's lower house has given final approval to a bill that, once signed into law, will prohibit the activities of foreign groups if prosecutors recognize them as threatening to Russia's security or defense potential.
The bill was drafted jointly by two opposition MPs – Aleksandr Tarnavsky of the Fair Russia party and Anton Ishchenko of the Liberal Democratic Party of Russia. Formally it is a set of amendments to the 2012 Federal law 'On measures of influence on persons involved in violation of basic rights and freedoms of Russian citizens'.
The fresh draft charges the Prosecutor General's Office with the task of creating an official list of "undesirable foreign organizations" and outlaw their activities in the country. For this, prosecutors must consult with the Foreign Ministry and the complete list must be made public by the Justice Ministry. The main criterion for putting a foreign or international NGO on the list is "the threat to the Constitutional order and the defense capability or security of the Russian State."
Once the group is recognized as undesirable all its assets in Russia must be frozen, offices closed and distribution of any of its information materials must be banned.
If the group chooses to continue its activities in Russia despite the bans the law orders to impose administrative fines on those who continue to work with it. Private persons can be fined between 5,000 and 15,000 rubles ($1000-$3000), officials will pay between 20,000 and 50,000 rubles and companies will face fines between 50,000 and 100,000 rubles.
Heads of such defiant NGOs will face criminal prosecution and fines of between 300,000 and 500,000 rubles or up to six years behind bars. Ordinary staff members who continue to work for an undesirable group despite being brought to administrative responsibility twice within 12 months with face similar criminal responsibility.
The bill has already raised a wave of criticism among foreign NGOs and Russian rights community. Mass media reported that when interpreted broadly the new rules could oust all major rights organizations from Russia – including Amnesty International, Human Rights Watch and others. HRW already called the bill "strangling" and "a draconic advance on civil society" in an official release.
The chairman of the Presidential Council for Human Rights Mikhail Fedotov described the new bill as "exotic" and said that many foreign groups were "shocked" by it.
The sponsors of the bill, however, have repeatedly denied that it was prepared against some particular groups and described it as more of preventive measure.
READ MORE: Putin signs controversial 'foreign agents' bill
Presidential press secretary Dmitry Peskov declined to comment on the new bill on Tuesday evening, adding that Vladimir Putin would consider the document when it is officially submitted to him for signing.
"We never present any preliminary position," Peskov told reporters.
The Upper House of the Russian Parliament – the Federation Council – passed the bill on undesirable groups on Wednesday.
The new bill can be seen in line with the 'Foreign Agents Law' introduced in Russia in late 2012. According to that act, all NGOs who receive funding from abroad, and that are even partially engaged in political activities, must register as foreign agents or risk substantial fines.
In November, last year the Foreign Agents Law was expanded with a bill that makes it illegal for Russian political parties to receive sponsorship, or enter any business deals with NGOs with 'foreign agent' status.