60% of Russians see US as threat & hindrance to development - poll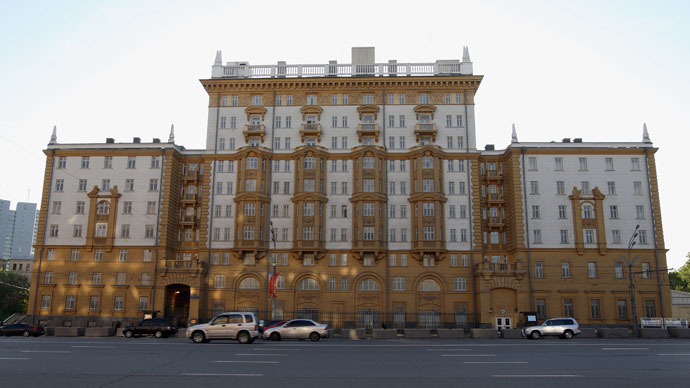 Over half of Russians think the United States poses a threat to their country and will create barriers for Russia's economic development, but only 5 percent thought the US could defeat Russia in an all-out war.
The share of Russians who perceive the United States as a general threat is 59 percent, according to the latest research released by the independent pollster Levada Center on Tuesday. This is up from 47 percent in 2007. The share of Russians who don't see any threat coming from the US is 32 percent now as opposed to 42 percent in 2007.
When asked to elaborate on the possible nature of Russia-US antagonism, 48 percent said the United States was purposefully creating various barriers in order to hinder Russia's development. Thirty-one percent said they feared a US military invasion on Russian territory and 31 percent thought the US was imposing alien ideas and values on their country through non-military means. Only 24 percent of respondents said they feared the US could impose direct control over Russia's political course.
When Russians were asked what their expectations were in case of a real military conflict with the United States, 52 percent said that it would end in mutual annihilation. A third answered they thought Russia would win this war and only 5 percent said they expected the United States and NATO to defeat Russia.
At the same time, the majority of Russians – 55 percent - said they didn't expect their country to be the first to use nuclear weapons, even in the case of war with the US and NATO (13 percent completely ruled out such possibility and 42 percent said such a development was extremely unlikely).Seven percent said that this was possible.
Levada Center's leading researcher Karina Pipiya said in comments to Izvestia daily that the shift in public moods was due to the spreading of the idea that Russia historically follows its own path of development. Such a position is now shared by the Russian authorities and general public. Therefore, most Russians blame any attempts to counter their country's course in foreign and domestic policy as a move aimed as containing and weakening Russia's influence and strength, Pipiya said.
The researcher noted that a different recent poll showed that 57 percent of Russians believe the authorities shouldn't pay any attention to criticism from the West.
READ MORE: Russians want their country to follow independent course, poll shows
In April, the Levada Center conducted a poll that showed 55 percent of Russians want their homeland to pursue its own way of development and only 17 percent think Russia should take the same path as Western nations. Nineteen percent of respondents said Russia should return to the ways of the Soviet Union.
Twelve percent tend to the view that Russia will join "the path of great Eastern nations," like China and India.
You can share this story on social media: