Russians want their country to follow independent course, poll shows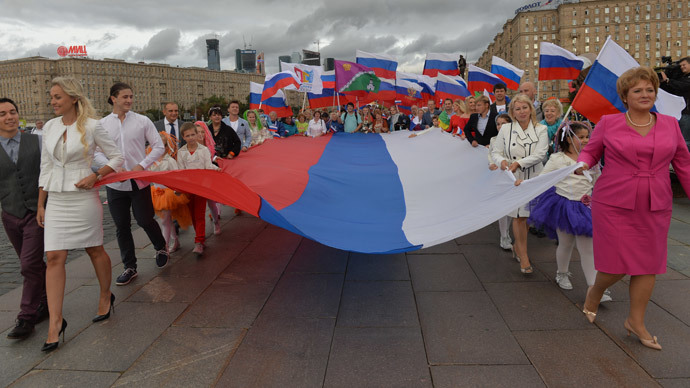 Over half of Russian citizens want their homeland to pursue its own way of development and only 17 percent think that Russia should take the same path as Western nations, according to the latest research by independent pollster Levada Center.
The share of those who prefer an independent development program for Russia was 55 percent, significantly up from 37 percent two years back. The share of supporters of the European way for Russia on the decreased from 31 percent in 2013 to 17 percent today, Levada's research indicates.
As many as 19 percent of respondents said that Russia should return to the ways of the Soviet Union.
Sociologist Karina Pipiya from the Levada Center said in comments to Izvestia daily that the shift towards support of 'Russia's own path' was a logical consequence of past year's major events – the political crisis in Ukraine, followed by the military conflict, the reunification of Russia and Crimea and the Western policy of anti-Russian sanctions. The combined result was the desire of an average Russian to distance from the West, she noted.
At the same time, Pipiya pointed out that when citizens were asked about their forecast of Russia's future, the answers were much less uniform.
Twenty-four percent of Russians expect that in 50 years their country will be rich and developed and on the same level with Western nations. Some 23 percent said that while science in technology in Russia will be on the same level with the West the life of ordinary people will be different (without specifying if it will be better or worse).
Twelve percent hold that Russia will join "the path of great Eastern nations," like China and India.
READ MORE: Most Russians see their country as great power – poll
Ten percent expect the country to return to socialism and move towards communism. Predictably most respondents in this category were elderly people.
As for the current economic and political situation, 50 percent of Russians maintain that the nation faces only temporary difficulties. Eighteen percent expect a deeper crisis and 8 percent say that the economy will slide into stagnation. Only 4 percent described the current situation as stable development.
In late March this year, the Levada Center released the results of another poll that showed that 68 percent of Russian citizens believe their homeland is a great power that plays a significant role in international politics. The same research demonstrated that the share of Russians who said they supported further expansion of contacts and cooperation with Western nations was still twice as many than those who oppose it – 60 percent v 29 percent.
You can share this story on social media: