Most Russians see their country as great power – poll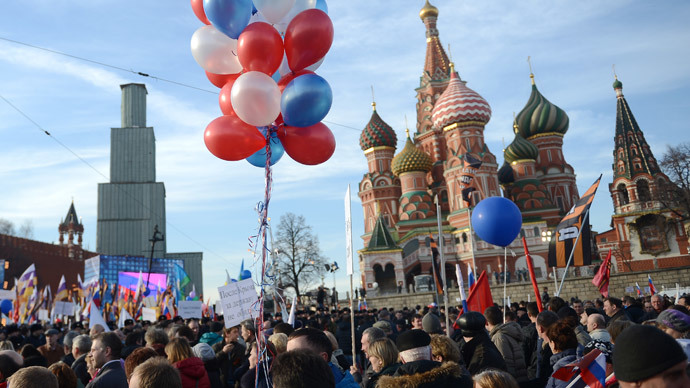 Sixty-eight percent of Russian citizens believe their motherland is a great power that plays a significant role in international politics, according to the latest opinion poll.
The research, conducted by the independent Levada Center, showed that this is the record historical high. The figure is the same as in November 2014. In 1999 the situation was almost the reverse – the share of Russians who saw their country as a great world power was 31 percent, versus 65 percent who said it was not.
Levada Center specialist Karina Pipiya said in comments with Izvestia daily that the share of Russians who were proud for their country remained at a record high despite many negative factors, such as the complicated economic situation, including inflation and other negative consequences for ordinary people.
The percentage of Russians who think that their country plays a significant role in international politics was also at 68 percent. Twenty-four percent said that Russia's role in the international arena was not very important and 5 percent consider it secondary. At the same time, 63 percent of respondents said that the country is being threatened by numerous foreign enemies and only 35 percent said that Russia had started to put more fear into its enemies over the past few years.
At the same time, the share of Russians who said they supported further expansion of contacts and cooperation with Western nations was still twice as many than those who oppose it – 60 percent v. 29 percent. However, in 2000 the number of Russians who thought that deeper cooperation with the West was a positive thing was at 76 percent.
READ MORE: Russians' approval of West continues to fall
Polls conducted in Russia earlier this year have shown record-high support for the authorities in general and for President Vladimir Putin in particular.
The latest poll, released by the Public Opinion Foundation on February 13, has shown that 85 percent of Russian citizens trust President Vladimir Putin and 74 percent say they would vote for him if presidential elections were held next weekend.
Putin's approval rating is up from 75 percent in February 2014. The share of those who said they were ready to vote for Putin was also up from 45 percent one year ago