Anti-corruption push: Ex-Defense Ministry property director jailed for 5yrs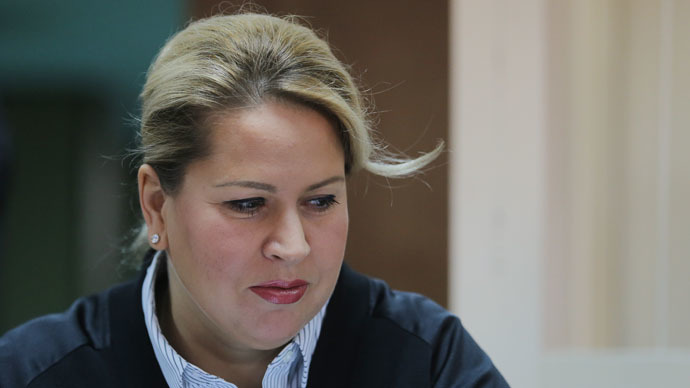 A court in Moscow has sentenced Yevgeniya Vasilyeva, the former head of the Defense Ministry's property branch, to five years behind bars after finding her guilty of large-scale embezzlement, money laundering and theft.
Four more people were sentenced to prison terms between 3 and 1/2 to 4 and 1/4 years, Russian news agencies reported Friday. The court also ordered Vasiliyeva and her accomplices to pay damages of over 123 million roubles ($2.4 million).
The sentence is a result of the so-called RosOboronServis case – the probe launched in 2012 into corruption in the joint stock company that was the property-managing branch of the Defense Ministry. Russia's top law enforcement agency, the Investigative Committee, accused Vasiliyeva and several other top managers of the company of selling state property to friendly commercial structures at artificially lowered prices.
The scandal that followed the case almost immediately led to sacking of then-Defense Minister Anatoly Serdyukov, who was Vasiliyeva's personal friend and long-time patron. Serdyukov himself was not charged in the RosOboronServis probe, but only questioned as a witness. A separate criminal case was opened against him on abuse of power charges, but it was closed in March 2014 under a nationwide amnesty.
READ MORE: Former Defense Minister Serdyukov given amnesty in power abuse case
According to law enforcers' initial claims, the estimated damage to the state budget amounted to 3 billion rubles (about $100 million in 2012). However, in the course of the trial, the Defense Ministry withdrew some of its claims after the real estate mentioned in them was returned to the state. As a result, the total amount of damages was reduced to about 500 million roubles, or $10 million at current exchange rates.
However, earlier this month a representative of the Investigative Committee said that a new case could be opened soon against Vasiliyeva as the probe had revealed some new details of her activities.
During the investigation, the former official remained under house arrest. This allows her to ask for release on probation as soon as in late May, the judge said.
Vasilyeva has always pleaded not guilty and insisted that all deals she made as the head of RosOboronServis were perfectly legal. Her lawyers said Friday that they intended to appeal the sentence.
You can share this story on social media: