Russia to launch own corruption index, to replace 'biased' Transparency Intl
Published time: 20 Apr, 2015 10:51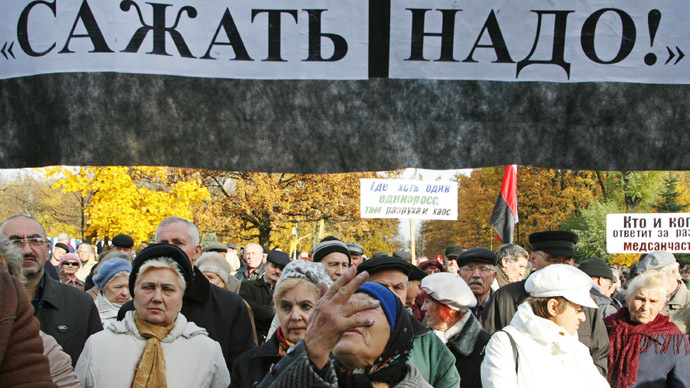 A Russian government institute has developed a complex program for evaluating the level of corruption, which its authors say is superior to the widely advertised, but very subjective Transparency International index.
The new method will be presented by the Institute of Law and Comparative Jurisprudence at the Eurasian Anti-Corruption Forum this week, the Izvestia daily reported on Monday. It is called the International Corruption Monitoring Program, or MONKOR.
The new index is based on criminal statistics, economic data, opinion polls and analysis of national legislation, one of its authors, Artyom Tsyrin, told reporters.This makes it different from the famous Corruption Perception Index, which is prepared annually by the international NGO Transparency International, he added.
"The Corruption Perception Index by Transparency International only evaluates psychological attitude of responders in polls. As a result, they are making conclusions on desirable institutional changes in the country purely on the basis of sociological studies. We try to find a correlation between actions and effects. It is important to move away from a subjective approach and towards objective research.
Our institute offers a universal tool allowing any willing nation to conduct an evaluation of its anti-corruption efforts and figure out whether the national anti-corruption policy is effective. MONKOR can compare the results in various countries that use its methods," Tsyrin said.
Despite the fact that MONKOR's author sees it as an alternative to Transparency International's index, the latter is used in the Russian method as part of its fundamental data, along with the Word Bank's country policy and institutional assessment (CPIA) for Corruption. Experts at the International anti-corruption academy and the FATF (Financial Action Task Force) group also participated in the research.
In Russia, the index uses data provided by the Supreme Court, the Interior Ministry and the Prosecutor General's Office. It will also include "corruption market" data provided by the Ministry of Economic Development.
READ MORE: No amnesty for top level corruption convicts on Victory Day – report
The new index is being tested in Russia and Kyrgyzstan, and talks are being held with Belarus, Kazakhstan and some other nations, Tsyrin told reporters.
Russia's position in the Transparency International Corruption Perception Index has been gradually falling since the mid-1990s. In 2014, the country was placed 136th of 174, a list also including Iran, Lebanon, Nigeria, Kyrgyzstan and Cameroon. The authors of the research emphasized that Russia's anti-corruption effort was, in their view "chaotic and irresolute."
Top Russian officials have repeatedly criticized the TI's approach as biased and politicized. The head of the Presidential Administration, Sergey Ivanov, said that he was "extremely skeptical" about the 2014 index, adding "ratings can be drawn by anyone." At the same time, Ivanov noted the authorities were closely following serious sociological agencies, including foreign and international organizations.
One such agency is Ernst&Young, which lowered corruption risks in Russia in 2014 and put it below average world levels.