Navalny pairs with ex-PM Kasyanov for forthcoming elections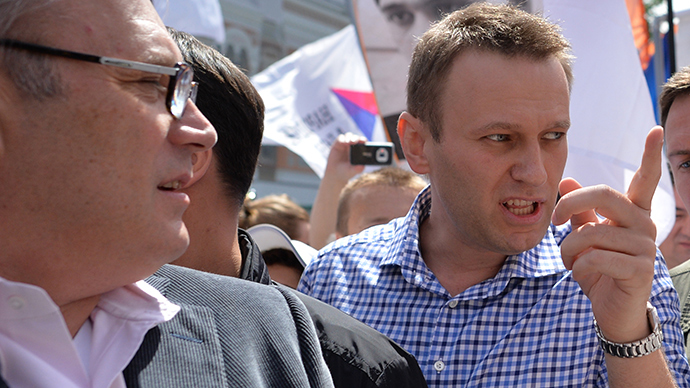 The Party of Progress headed by anti-corruption activist Aleksey Navalny has announced a strategic union with the RPR-Parnas party led by former Prime Minister Mikhail Kasyanov and invited all "people of good will" to run on their election lists.
Kasyanov and Navalny released a joint public statement on Friday saying that the Party of Progress and the Republican Party of Russia – Party of People's Freedom (RPR-Parnas) were forming joint lists of candidates both for the municipal and regional elections that will be held in 2015 and the federal parliamentary elections due in 2016.
The politicians promised that in the nearest future they would agree on and show the public the mechanism for choosing candidates for the joint list. They also emphasized their project was open not only for members of their parties but for all "people of good will" who share their values.
Russian law allows political parties to include non-members in elections lists. In the latest parliamentary elections the majority United Russia party included about 150 candidates from the public movement United People's Front in their elections lists, and many of these candidates later received seats in the State Duma.
The Party of Progress was officially registered by the Justice Ministry in February 2014, after a lengthy row with environmentalists and freemasons, who claimed they had more rights for the project's initially-intended name. In February, it held a major convention in which Navalny announced plans to run in the maximum possible number of regional polls and to participate in the 2016 State Duma elections. However, Navalny's allies have failed to register enough regional offices in time and so far can't run in federal polls on their own.
The alliance with RPR Parnas gives the Party of Progress such an opportunity because the latter has representation in regional legislature and can run for State Duma seats even without gathering supporters' signatures.
Navalny's party hugely relies on their leader's popularity as an anti-corruption activist and blogger. His vocal statements and independent investigations have been marred by the fact that Navalny himself became a suspect in several cases of graft and embezzlement, was convicted twice and received suspended sentences.
The activist has always maintained his innocence and said that all cases against him had been fabricated by the authorities, who wanted to silence him and feared political competition.
READ MORE: Opposition party denied registration for accepting dead members
The PARNAS initially existed as a non-system opposition movement headed by several people who held major government posts during the Yeltsin Era, including ex-PM Mikhail Kasyanov and ex-deputy PM Boris Nemtsov. It held its first foundation congress in 2010, but was denied registration for technical reasons and eventually merged with the Republican Party of Russia led by veteran politician and parliamentarian Vladimir Ryzhkov. The move gave the opposition a political platform, but in February this year Ryzhkov and several of his long-term allies left the joint party. It caused a scandal when they accused Kasyanov and Nemtsov of hijacking his project. Two weeks later Boris Nemtsov was shot dead in Moscow in an apparent contract hit. The investigation into this assassination is ongoing.
You can share this story on social media: