'Ignorance and arrogance' – Duma speaker blames US for international crises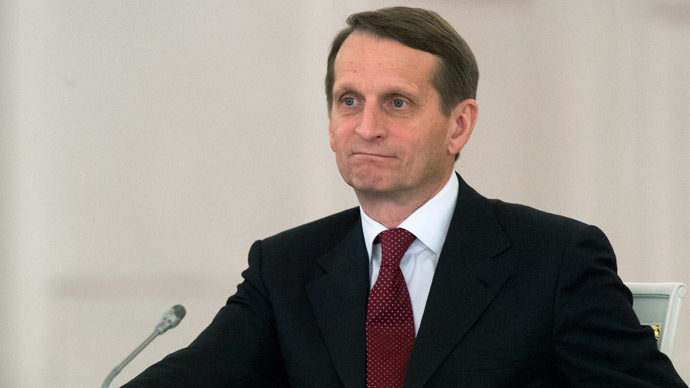 The United States' arrogance and lack of awareness of international problems that it tries to solve is the main reason behind the ongoing crisis of the system of international institutions and global security, the Russian Lower House speaker has said.
"The synthesis of ignorance and arrogance multiplied by the blockade of inconvenient information and sometimes by outright slander has already brought forth tragedies in the Middle East and Central Asia and in other regions of the world. Besides, it caused a misbalance in the whole system of international institutions, including those in the security sphere," State Duma chairman Sergey Naryshkin said at the chamber's Monday session with political experts.
"As a result, the whole world is in a crisis situation," he said.
"A very demonstrative and even symbolic example is the great number of anecdotal statements made by the US State Department on the situation in Ukraine. They all demonstrate how weak is their handling of the problems that they are rushing to solve," Naryshkin said.
He also said that the attempts to ignore Russia's opinion on major international issues were counterproductive and useless.
"I think that Russia can and should make a special input in practically all discussions on key international problems. This is how it has been for centuries and even for that sole reason the attempts to isolate Russia, to shrug off Russia's opinion, are both counterproductive and useless," Naryshkin said.
READ MORE: PACE has evolved into Western 'ideological tool,' no reason to stay – Moscow
Naryshkin's statement came shortly after German Foreign Minister Frank-Walter Steinmeier told the press that he considered it impossible to invite Russian President Vladimir Putin to the Group of Seven summit this year, as suggested by German leftist politicians.
Also on Monday, Russian presidential press secretary Dmitry Peskov said that Russia was open for interaction with foreign nations even though it did not intend to impose its participation on international summits.
"The President has repeatedly stated that we had never had in mind to impose ourselves on someone in any possible format," Rossiiskaya Gazeta quoted Peskov as saying. "As before, we are open for all types of cooperation and interaction. We have been open and we remain open," he said.