Greater military potential guarantees a calm life - Putin
Published time: 9 Apr, 2015 13:48
Edited time: 9 Apr, 2015 16:53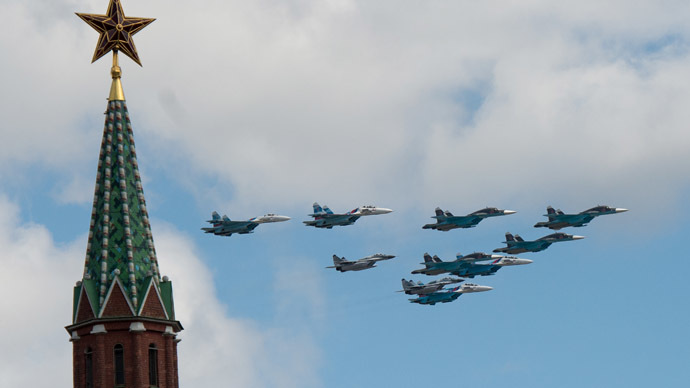 Strengthening Russia's military potential is a guarantee for peaceful life and the sovereign development of the country, President Vladimir Putin said at the promotion ceremony for top military officers.
"Building the military, strengthening of the defense potential will continue in a gradual and system way. We all understand very well that this a major factor in Russia's stable and sovereign development and an insurance for the calm and peaceful life of millions of our citizens," RIA Novosti quoted Putin as saying.
The ceremony of promotion of Russia's top military and law enforcement commanders to new ranks took place in the St George Hall of the Grand Kremlin Palace on Thursday.
At the same event Putin reiterated Russia's opposition to meddling with other nations' internal affairs and blamed such actions for the major problems that had recently appeared in the international politics.
"We are against interfering with home affairs of sovereign countries against instigation of military conflicts. When such politics was exercised towards a number of countries in North Africa and Middle East it resulted in an outburst of terrorism there. Near our borders it caused a bloody drama [for] our neighbors, the Ukraine," he said.
"Today we can see that some nations are changing their policy in the direction of unlimited preemptive actions of offensive nature. As a result, the conflict potential is increasing in the regions that are of strategic significance for Russia. The threats emerge that we cannot ignore," Putin noted. He added that the increase of the Russian defense potential would be executed primarily through perfecting the structure of the forces and through better cooperation with other countries that seek peace, stability and development.
The Russian leader also announced a set of major inspections that would be launched in all Russian military districts and in all branches of the military forces.
READ MORE: To change the situation for the better we must make Russia stronger – Putin to FSB
In late March this year Putin expressed the same idea in a speech before senior officers of Russia's domestic security service, the FSB.
"No one has ever succeeded in intimidating or pressuring our country and no one ever will – we have always had and always will have an adequate answer for all internal and external threats to national security," the president said in an address to the FSB collegium.
"No changes for the better will happen if we constantly yield, give in or use baby talk, it will only improve if we become stronger," Putin said.