State Duma votes to strip opposition MP Ponomaryov of immunity over suspected graft
Published time: 7 Apr, 2015 14:28
Edited time: 7 Apr, 2015 14:55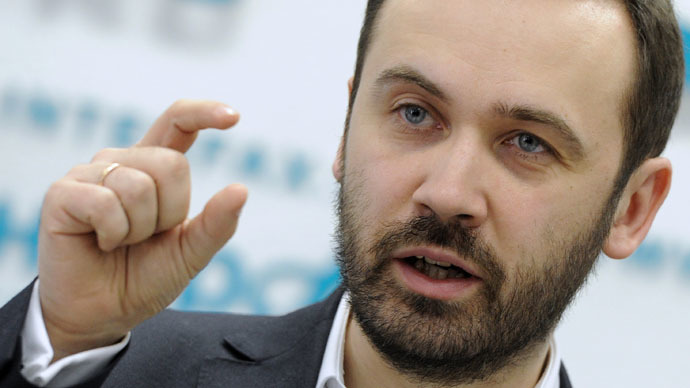 Russian MPs have voted to strip their colleague Ilya Ponomaryov of parliamentary immunity, allowing prosecutors to start a criminal probe into an alleged major corruption scheme in the state innovation hub Skolkovo.
The decision was passed Tuesday with an almost unanimous vote, RIA Novosti reported. A total of 438 out of the chamber's 450 MPs supported the decision, with only one vote against and one abstention.
The vote was called at the request of the Prosecutor General's Office, which is seeking to probe Ponomaryov's alleged complicity in the 2013 scandal at the Skolkovo Foundation, the Russian state-sponsored center for innovations and technologies.
The flamboyant leader of the populist nationalist party LDPR, Vladimir Zhirinovsky, added his own complaints as he described Ponomaryov in a parliamentary speech before the vote. "We will support it [the lifting of immunity] because he is a man who only caused negative sentiments from the very beginning. He came to work in a shabby blue jeans and a sweater, he acted with a good deal of contempt," Zhirinovsky said.
READ MORE: Skolkovo vice president suspended over graft case
Russian law enforcement agencies discovered that Skolkovo vice president Aleksey Beltyukov had paid Ponomaryov about $750,000 for 10 lectures and one research paper. The MP received the fees but either failed to deliver the promised work completely or executed it very poorly. The politician pleaded not guilty, saying that the fees were fair and proportionate to the amount of work done.
The probe and subsequent court hearings proved these allegations to be true. Beltyukov was suspended and a criminal investigation into his case goes on to this day. Ponomaryov was not prosecuted because of his parliamentary immunity but the court ordered him to return the money.
The spokesman for Russia's top law enforcement agency, the Investigation Committee, earlier told the press that if Ponomaryov's immunity was lifted, investigators would press charges against him over the Skolkovo embezzlement case.
In mid-2014 Ponomaryov left Russia over fears that Russian bailiffs could ban his exit from the country over an unpaid debt. Since then he has been residing in the United States.
After the media broke the news about the planned vote on Ponomaryov's immunity, the lawmaker has repeatedly stated that did not intend to return as that would be tantamount to voluntarily going to prison.
Ponomaryov will be the sixth MP deprived of their parliamentary immunity since the last State Duma elections. Other lawmakers who lost the trust of their colleagues include three Communist Party MPs and two Fair Russia MPs. The criminal charges against them were embezzlement, attempted embezzlement and in one case violence against a representative of the state authorities.