Investigative Committee launches probe into desecration of WWII monuments in Ukraine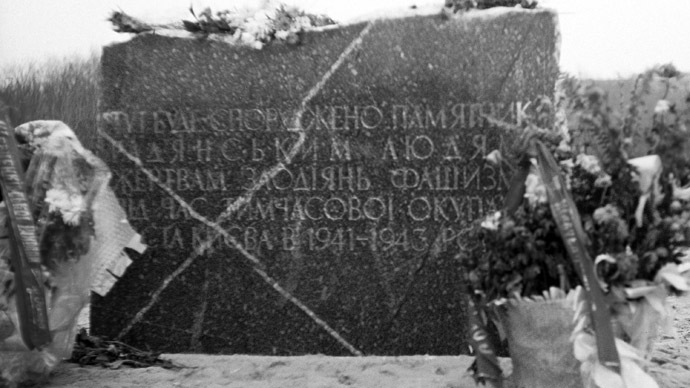 Russia's top law enforcement body has announced that it has started a criminal probe into attacks on WWII monuments and graves that allegedly took place in Ukraine.
The official statement on the Investigative Committee's website Monday reads that the criminal cases had been instigated into defiling of dead bodies and into rehabilitation of Nazism. According to the Russian law, such offences can be punished with up to five years in prison and up to one year of correctional labor, respectively.
"Investigators are aware of several particular facts that prove that in 2014 Ukraine the monuments dedicated to the Soviet warriors' fight against Nazism were defiled or destroyed," the document reads.
The cases include the destruction or deliberate razing of monuments dedicated to war heroes and also to victims of the Holocaust. The locations are scattered all over Ukrainian territory – from Lvov in the West to Odessa in the Southeast and the capital city of Kiev.
"The memorials are the symbols of the military glory of the Soviet warriors who fought against Nazism and due to the fact that the Russian Federation is a legal successor to the Soviet Union the mentioned unlawful activities are targeting the Russian Federation," Russian law enforcers noted in their address.
The agency's spokesman, Vladimir Markin, also stated that the Russian Criminal Code allows it to prosecute foreign citizens even in cases when the crime is committed outside Russian borders if the criminals targeted the interests of the Russian Federation as a state.
The Investigation Committee has already started several criminal cases into the recent events in Ukraine, including the probe into using the banned methods of warfare and the genocide of the Russian-speaking population of Donbass instigated in January 2015.
READ MORE: Probe launched into Fox News analyst's 'kill Russians' comment
In mid-March, the Committee opened a criminal case against retired US Army general Robert H. Scales, who suggested that the Ukrainian crisis could be settled by "killing Russians" in comments on the conflict to Fox News.
The Russian side has also addressed the international courts over the violations committed during the civil war in Ukraine. In particular, the Moscow Red Cross NGO said in January that the International Criminal Court in The Hague had accepted the lawsuit against Ukrainian authorities on charges of killing and enslavement of civilians, indiscriminate shelling of residential districts and using hunger as a lever against residents of the southeastern regions of Ukraine.
You can share this story on social media: