Gorbachev blames war in Ukraine on Perestroika failure and USSR breakup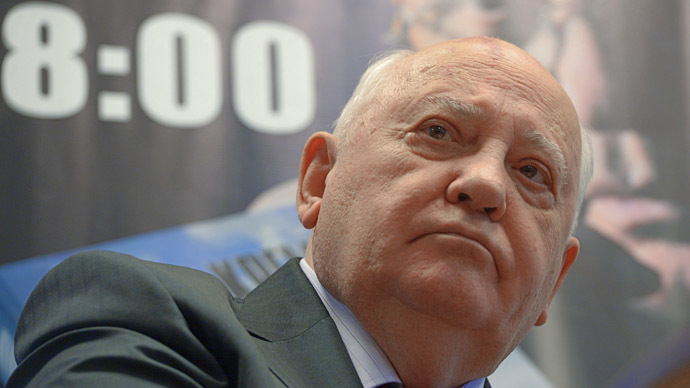 Former Soviet President Mikhail Gorbachev holds that the roots of the Ukraine conflict are in the breakup of the Soviet Union and he warns against attempts to solve the crisis by military force.
"The deep rooted reason for the turmoil is in the deliberate failure of Perestroika, in irresponsible decisions that were made by the heads of Russia, Ukraine and Belarus in the Belovezha Forest," Gorbachev wrote in his Rossiiskaya Gazeta column.
The first and only president of the Soviet Union referred to the events of 1991, when the leaders Russian, Ukrainian and Belarussian Soviet republics signed the agreement on forming the Commonwealth of Independent States that replaced the USSR and de facto deprived Gorbachev of his post.
The former Soviet leader also noted in his article that the few years that followed the Belovezha events became a test for Ukraine as Western nations started dragging them into the Euro-Atlantic community openly ignoring the interests of the Russian Federation. Gorbachev stated that all sides lost as a result of these actions because they created the threat of a new Cold War, or even a real war.
Gorbachev urged all involved parties to stop mutual accusations and support any steps aimed at the settlement of the crisis. "There is no military solution to this conflict and there will be no winners in it. It is important to support any constructive steps and any manifestations of a more responsible approach that could lead to peace," he wrote.
The former Soviet leader also stated that the anti-Russian steps of Western nations, no matter how persistent, were doomed to fail. "Attempts to isolate Russia or ignore it would always be unsuccessful. I am sure that our country will overcome the current period of economic difficulties. But we need to seriously analyze the reasons behind them," he wrote.
Gorbachev has already expressed the opinion that the military conflict in Ukraine was rooted in the hasty and thoughtless breakup of the USSR. This is one of the ideas of his latest book of memoirs called "After the Kremlin" – released in December last year.
He also reiterated to the leaders of Western nations to stop dragging Ukraine into NATO because these attempts would result in nothing but deeper strife with Russia, and further escalation of the conflict.
You can share this story on social media: