Police want to broaden law on rallies, cover new forms of protest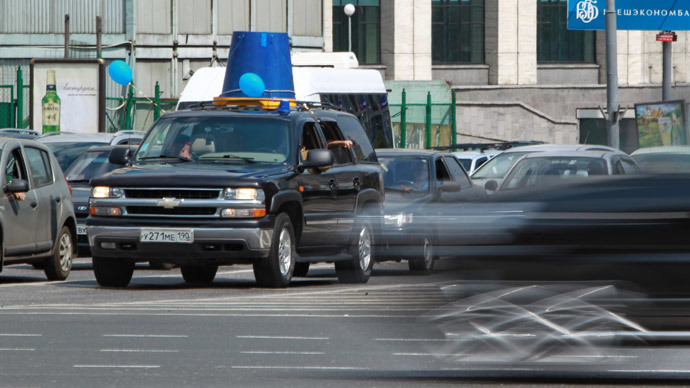 The Russian Interior Ministry is suggesting altering the law so that it covers car protests and sit-ins, saying the move would circumvent legal ambiguity in the interest of society as a whole.
The bill prepared by ministry experts has been posted on the government website for public discussion. The explanatory notes attached to the document say the bill aims to include various new forms of protest, in particular tent camps and demonstrations using vehicles, into the Federal Law on Rallies, Meetings, Demonstrations, Marches and Pickets introduced in 2004.
The authors of the motion are hopeful that if new amendments are passed, it will come into force in July.
The current version of the law regulating mass street events was passed in 2012. Since then several amendments have been added, tightening the responsibility for violations but also allowing for unlicensed protests in dedicated places, which the mass media dubbed 'Hyde Parks'.
Mass car-borne rallies occasionally take place in major cities and its participants say they should not fall under the norms of the regular law on rallies. At some point this form of protest became so popular that the largest organized group – "The Blue Bucket Society" - wanted to register as a public movement, but the Justice Ministry refused their request.
The name appeared when ordinary drivers started putting plastic toy blue buckets on the roofs of their vehicles. The point was to draw public attention to the great number of cars equipped with flashing lights, which enjoy special privileges in traffic. Many of these vehicles ferried ordinary civil servants about, who simply didn't want to get snarled up in jams. Eventually, the authorities ordered the number of cars with flashing lights to be cut to the bare minimum.
READ MORE: Government to reduce number of cars with flashing lights
Tent camps and sit-ins are less popular in Russia, but they have played a major role in Ukraine's recent history, where the name of the improvised tent camp in the center of the capital- the Maidan - became a euphemism for anti-government protests. These have already led to several forced regime changes.
However, an opinion poll conducted in August 2014 showed that only 12 percent of the public considered mass political protests viable. Those ready to take part was an even lower figure - just 7 percent. The proportion of Russians agreeing with protesting over the economic and social situation in the country was slightly higher at 17 percent, but only 8 percent of citizens said they were willing to take part in such rallies.
You can share this story on social media: