Russians accuse Kiev of ceasefire violations, poll shows
Published time: 17 Mar, 2015 10:25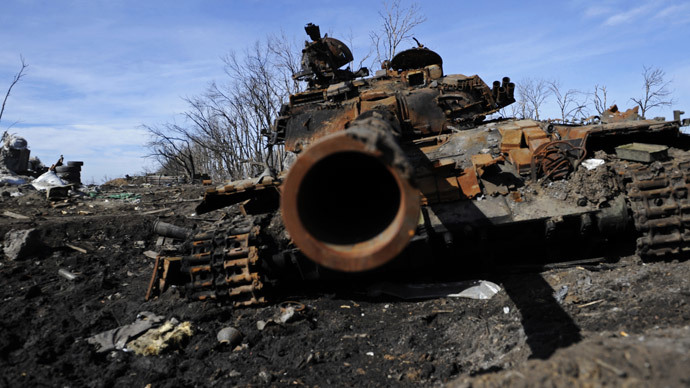 About half of all Russians think that the Minsk peace agreements are being violated, a survey reveals, and most respondents think the Kiev regime is responsible for continuing military action in Ukraine.
The research conducted by the major government owned public opinion center VTSIOM has shown that 53 percent of the Russian public think the Minsk agreements on ceasefire and withdrawal of heavy weapons from the conflict zone in eastern Ukraine are not being observed.
Of these people, 68 percent said that the blame for the continuing military action lies on the Ukrainian authorities and military and only 2 percent of the public incline towards blaming the self-proclaimed Donetsk and Lugansk Republics. Twenty percent of respondents who hold that the ceasefire is not being observed maintain that both parties of the conflict are responsible.
VTSIOM Director Valery Fyodorov said in press comments that the current attitude of an average Russian to the situation in Ukraine was caused by growing disappointment in the once-brotherly nation that unexpectedly started an aggressive campaign against its own citizens, accompanied by an immense wave of blatant propaganda.
"It's very difficult to believe in their peaceful intentions, especially on the background of lies and propaganda coming from Kiev. It's difficult to believe in their commitment to end the war and settle the conflict, this is the cause of the very strong skepticism," RIA Novosti quoted Fyodorov as saying.
READ MORE: 'Ukraine, West wage information war against us' – Russians
In early February this year, VTSIOM asked Russians how they would describe the current conflict in the east of Ukraine. Half of all respondents called the military standoff between pro-Kiev military and the self-proclaimed republics of Donetsk and Lugansk a 'civil war'. Seventeen percent described the events as 'terror and genocide' (without specifying the side committing them) and another 17 percent perceived the events as 'anarchy and banditry'.
In the same research, about 63 percent of respondents said they saw the continuing growth of tensions and only 25 percent said that they saw the situation as stable.