Russian senator suggests testing mental health of candidates in elections
Published time: 12 Mar, 2015 09:36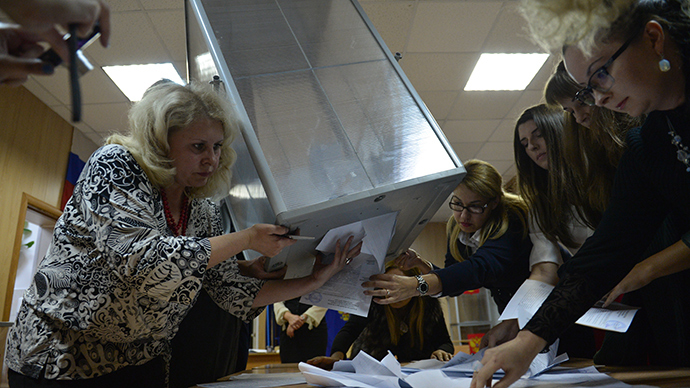 An upper house MP has drafted a bill that obliges all candidates in Russian elections to inform voters about their sanity and that they have no addictions.
The motion was prepared by Anton Belyakov, who represents the central Russian Vladimir Region in the Federation Council. The senator wants to change three federal laws that regulate basic citizens' rights, the presidential elections and the elections of the Lower House MPs. If the bill is passed all candidates in this elections would have to produce certificates from psychiatrists and medics specializing in alcoholism and drug addiction. Such tests and certificates are widespread in Russia as they are required from anyone who applies for a driving license or a gun permit.
In an interview with the Izvestia daily, Senator Belyakov emphasized that he was not suggesting barring anyone from the polls – the certificates were needed only as additional information for voters. "The voters have the right to know all about their candidates," he said.
Belyakov noted that his suggestion was in line with the regulation that obliges politicians running in polls to inform voters about their criminal record. He added that it was obvious that a civil servant or lawmaker who suffers from mental illness or addiction can inflict irreparable damage to the country and the people.
The head of the Central Elections Commission, Vladimir Churov, supported the motion in an interview with Russian News Service radio.
In September 2014, State Duma MP Aleksey Zhuravlev, who heads the nationalist party Rodina (Motherland), also suggested that politicians should disclose their psychiatric problems to the public under threat of removal from polls. Zhuravlev claimed that he spoke from personal experience. "Sometimes our citizens say that certain deputies must be insane. It might be a figure of speech, but we cannot rule out that it could be an actual fact," he said in a press interview.
READ MORE: Candidates in elections must prove their sanity – MPs
Zhuravlev's motion received some support from other MPs, but has not made it into a bill.