Putin cuts own, PM's salary by 10 per cent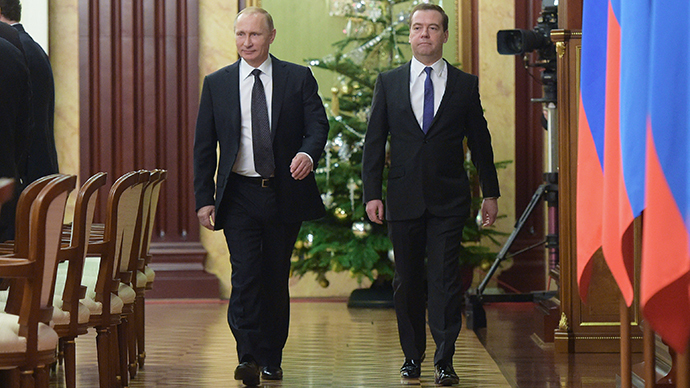 Russian President Vladimir Putin, has cut his own salary, the earnings of Prime Minister, Dmitry Medvedev and a number of other high-ranking officials by 10 per cent due to economic hardships experienced by the country.
According to the decree, which the President signed on Friday, the salaries will be cut from March 1 to December 31, 2015.
The reduction of wages will also affect Prosecutor General, Yury Chaika, and Investigative Committee head, Aleksandr Bastrykin as well as all members of the government including foreign minister, Sergey Lavrov, and Defense minister, Sergey Shoigu.
The 10 per cent salary cuts may be well be extended into 2016, Putin's press-secretary, Dmitry Peskov, told RIA-Novosti news agency.
"This is a temporary ruling, caused by the current economic situation. If the conditions do not change significantly, this period will be extended. If there will be a change for the better then there will be no more reason for the extension," he said.
READ MORE: Putin announces 10% salary cuts in his administration
The press-secretary also stressed that the reduction of salaries in the Kremlin should not be regarded as a signal to employers across the country.
The earning of MPs in the Russian parliament will also be decreased by 10 per cent as part of the Russian government's budget optimization.
"The President's decree in this regard extends to the State Duma" as the salaries of the deputies are equivalent to those of federal ministers, according to Russian law, Igor Shuvalov, deputy prime minister, said.
In late February, Putin also ordered salary cuts of 10 percent for all members of the presidential administration.
According to the Russian-language business daily Vedomosti, Putin earned around 3.6 million roubles in 2013 (back then it was $120,000), but the President's salary was increased by 2.65 times in April 2014.
The Russian economy was hard hit by Western sanctions over Ukraine and falling oil prices, which saw the ruble lose half its value against the dollar in December.
You can share this story on social media: